Pay It Forward Day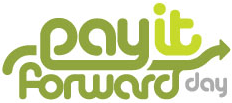 Inspired by the book and movie, 'Pay it Forward,' international Pay it Forward Day, held annually in April, involves people performing acts of kindness for others without expecting anything in return. Instead, recipients are asked to pay the kindness forward to others in need, creating a ripple effect of giving.
On Friday, April 28, 2017, the members of EAST epitomized the spirit of Pay it Forward Day by raising more than $7,000 for the EAST Development Fund to support initiatives designed to reduce the incidence of trauma and improve the care of the injured patient. The initiatives supported by the Fund are in the areas of research, injury control and violence prevention, education and leadership development.
Thanks to everyone's generous contributions, we can continue to offer such valuable initiatives in research such as the Trauma Research Scholarship and the Multicenter Trials Junior Investigator Award, while developing tomorrow's leaders in trauma and acute care surgery through programs such as the Leadership Development Workshop series.
Thank you for your support. Together we can continue making a difference in advancing the care and rehabilitation of the injured patient.
Learn how your support benefits trauma care from our scholarship and award recipients