Pay It Forward Day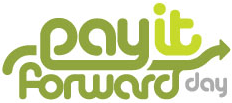 Inspired by the book and movie, 'Pay it Forward,' international Pay it Forward Day, held annually in April, involves people performing acts of kindness for others without expecting anything in return. Instead, recipients are asked to pay the kindness forward to others in need, creating a ripple effect of giving.
In April 2016, the members of EAST epitomized the spirit of Pay it Forward Day by raising more than $2,000 for the EAST Development Fund to support initiatives designed to reduce the incidence of trauma and improve the care of the injured patient. The initiatives supported by the Fund are in the areas of research, injury control and violence prevention, education and leadership development.
This year's Pay it Forward Day falls on Friday, April 28, 2017, and EAST is calling its members to get involved as part of our year-long "Getting to Thirty" campaign, celebrating thirty years of EAST advancing science, fostering relationships, and building careers. Together we can continue to help fund valuable initiatives in research such as the Trauma Research Scholarship and the Multicenter Trials Junior Investigator Award, while developing tomorrow's leaders in trauma and acute care surgery through programs such as the Leadership Development Workshop series.
Here are some ways to get involved:
Donate at least $30 to the Pay it Forward Day campaign
Become a Pay it Forward Day champion by helping us spread the word about our goal. Follow our facebook and twitter accounts and share and retweet our Pay it Forward Day posts.
Help recruit a company sponsor to make a contribution match up to $5,000. See page 12 of our Marketing Prospectus and contact us at managementoffice@east.org or 312-202-5621 to learn more.
Thank you for your support. Together we can make a difference in advancing the care and rehabilitation of the injured patient.
Learn how your support benefits trauma care from our scholarship and award recipients