Message from the EAST President
Message from the President (Friday, June 13, 2014)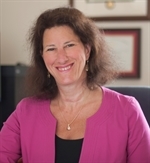 Kimberly A. Davis, MD, MBA, FACS, FCCM
President
Eastern Association for the Surgery of Trauma


Greetings from Connecticut! I am sure that you join me in welcoming warmer weather, sun and fun. The Board of Directors has been hard at work for the organization, most recently at the Spring Board meeting in Chicago. At the Board meeting there was a lively and detailed debate about the proposed Bylaws changes, and the proposed governance restructuring described in Past President Sagraves' Presidential Address.
I would like to assure the membership of EAST that the Board has heard your concerns, particularly those raised at the Membership meeting during last year's Annual Scientific Assembly. I would like to applaud those members who stood and expressed their concerns – feedback from the membership is vital. We on the Board are thrilled that our members are concerned and involved in the future of the organization. To our mind, the fact that questions were raised means that the process is working. It is now our goal to address your concerns, so that the Bylaws may be revised as guided by Tennessee statute (the state in which we are incorporated).
Over the next several months, emails will be coming approximately every two weeks from the EAST Administrative Office, addressing the concerns raised at the business meeting and detailing the proposed changes in the Bylaws, which have been fully vetted by your elected Board of Directors. I encourage you to carefully review the documents as members of the organization, and reply back should you have questions or ongoing concerns. Each packet of information will detail the changes and provide reference to the current Bylaws, the redlined version showing proposed changes, and when appropriate, the "clean" version of the proposed changes. Please recognize that the Bylaws will need to be re-ordered, and that this re-ordering will make it appear that more changes are being made than actually are.
As always, should any member have a question regarding EAST, all of the members of the Executive Committee (myself included), all of the members of the Board, and the staff at the EAST Administrative Office are available to answer your questions.
The environment in which we practice continues to change and to raise new challenges, not only to us as individual providers, but to the organization as it enters its second quarter century. It is my goal to position EAST to address these challenges and to allow the organization to continue to flourish not only on the strength of its past performance but on the strengths of our future – the young trauma surgeon. As Walt Disney once said, "We keep moving forward, opening new doors, and doing new things, because we're curious and curiosity keeps leading us down new paths."
We hope to see you at the 28th Annual Scientific Assembly, which will be held January 13-17 at Disney's Contemporary Resort. Thank you again for the privilege of serving as your president.
« All News »