EAST Community Outreach
EAST COMMUNITY OUTREACH 2017
Public Access Hemorrhage Control and
Training for Non-Medical Personnel
Volunteer Registration is Closed
The 2016 mass shootings in Dallas and Orlando and the 2013 Boston Marathon Bombings have brought a heightened awareness of the importance of how early hemorrhage control performed by first-responders, law enforcement, and the general public can save lives. With that in mind, the 2017 EAST Community Outreach Program will focus on public access hemorrhage control training for non-medical personnel and will include training and simulation exercises centered around the Hartford Consensus™, Stop the BleedSM, and BleedingControl.org.
The EAST Community Outreach program, now in its sixth year, is being coordinated by the EAST Injury Control and Violence Prevention Section. The event will be held on Tuesday, January 10, 2017 from 7:00 am-3:00 pm at the Diplomat Beach Resort in Hollywood, Florida.



Thank you to the Society of Trauma Nurses for joining EAST again in supporting and assisting with the EAST Community Outreach Program.
The training schedule will consist of three separate sessions for specific audiences:
7:00 am-8:30 am - Training Session 1 - Trainer Orientation - Closed to EAST Volunteers Only
8:45 am-10:00 am - Training Session 2 - Security Staff and Public Safety Personnel
10:15 am-11:30 am - Training Session 3 - Community Training

1:00 pm - 3:00 pm Active Shooter Excercise using Stop the BleedSM
Participation in this exercise is restricted to EAST Volunteers, Security Staff, and Public Safety Personnel. All others may observe.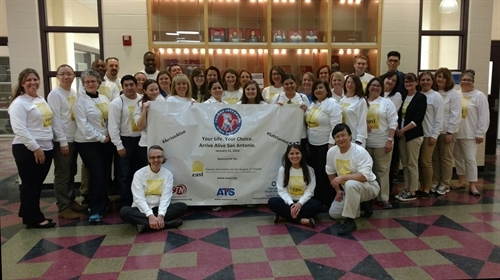 2016 EAST Community Outreach Volunteers
EAST Community Outreach History - Since 2012 EAST has hosted a Community Outreach Program in conjunction with its Annual Scientific Assembly. From 2012-2016 the program educated more than 3,000 high-school students on the dangers of distracted and impaired driving. Watch the videos and see the positive impact of the EAST Community Outreach Program. The 2017 program will have a different focus and as with previous outreach programs, the 2017 program will provide important life saving training and education to the community.