Join the next EAST Twitter Member Chat on November 29th!
Nov 29, 2022
https://twitter.com/EAST_TRAUMA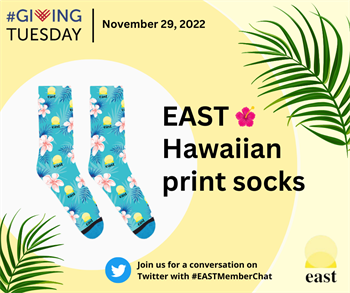 This Giving Tuesday, EAST is Giving Back to Our Members!

This Giving Tuesday, we're thanking our members for all you do by gifting #EASTSwag to 20 randomly selected members! Join the #EASTMemberChat on Twitter @EAST_TRAUMA on November 29th to see who the lucky recipients are!

During the chat, we'd also like to invite you to let us know how you plan to continue to give back to your profession throughout the course of your career. Jump in anytime throughout the day and just include #EASTMemberChat in your tweet. Tag other EAST members to get them involved in the discussion as well!

For more information on how to participate in the chat or set up a Twitter account, check out the guides below.

We look forward to hearing from you!
Getting Started with Twitter
Dr. Heather Logghe has posted an excellent introduction to Twitter, including signing up and creating your profile. Visit, "Twitter 101: How to set up a professional Twitter account," for more information.
Joining a Twitter Chat
Hashtags like #EASTMemberChat allow many people to easily talk about a single subject without the "reply-to-a-reply-to-a-reply" chains seen in email or in small Twitter conversations. A group of people can use the same hashtag to create a tweet chat that can then be easily followed, searched, and archived. To participate in the chat, just include #EASTMemberChat in your tweet. Following the ongoing discussion is as easy as tapping or clicking on the #EASTMemberChat hashtag or searching for it on the web or on your device's Twitter app.

Add Your Twitter Handle to Your EAST Profile
Remember to add your Twitter handle to your EAST profile so that other EAST members can find you on Twitter.
Sign in to your EAST member profile.
Click Member Services on the right-hand side of the page. A drop-down menu will appear.
Select Manage Profile in the drop-down menu.
Scroll down to the E-mail section and select Add. A drop-down menu will appear.
From that drop-down menu, select Twitter URL and add your Twitter handle.
Check the box that reads, "Include in Membership Directory," to allow other members to find your Twitter handle.
Click Save Changes and Continue.
If you have any questions regarding updating your profile or have trouble recovering your username or password, please email managementoffice@east.org or call 312-202-5508.