It's Time for EAST's Annual Giving Tuesday Campaign to Support Trauma Research!
Thursday, November 12, 2020
Today marks the launch of EAST's Giving Tuesday campaign to raise funds for trauma research. Last year, you helped break a record, raising over $55,000 to fund the EAST Trauma Research Scholarship. Thank you! We couldn't have done it without your incredible show of support!

This year, we're hoping to raise $60,000 and have expanded our scope to fundraise not only for the Trauma Research Scholarship but also for the Multicenter Trials Junior Investigator Award as well as for the INVEST-C Research Hackathon. These initiatives are all vital to supporting the work of investigators in an environment of scarce funding opportunities. Will you help us reach our goal?


Donate anytime between today and Giving Tuesday, December 1 to invest in the next generation of surgeon scientists working to advance the science of caring for injured patients. Hear why your support matters from our scholarship and award recipients below.


---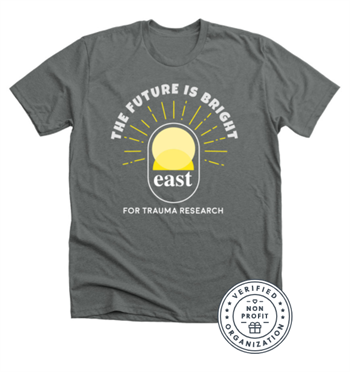 This Giving Tuesday campaign, we've partnered with Bonfire to raise awareness of trauma as a public health challenge.


Visit Bonfire between today and Giving Tuesday, December 1 to shop our custom limited-edition collection of apparel and know that 100% of profits will benefit EAST trauma research initiatives. Remember to take a photo in your apparel and share on social media with the hashtag #EASTSwag.


With your support, the future is bright for trauma research!
---