Thank You for Helping Raise More Than $51,000 for Trauma Research this Giving Tuesday!
Wednesday, December 2, 2020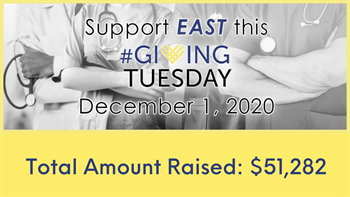 EAST asked, and you gave! Thank you to everyone who supported our Giving Tuesday campaign. You helped raise more than $51,000 for trauma research! Because of your generosity, we can continue to invest in the next generation of surgeon scientists working to advance the science of caring for injured patients.


When you consider that trauma is one of the most poorly funded areas of research relative to disease burden, your contributions are vital to shaping the future of trauma research. Thank you for the outstanding show of support in helping us fund the EAST Trauma Research Scholarship and the EAST Multicenter Trials Junior Investigator Award as well as the INVEST-C Research Hackathon. Because of you, the future is definitely bright for trauma research!

If you missed Giving Tuesday, there's still time to make a difference for the trauma community. In lieu of that coffee today, consider a $5 donation or a long-term investment by opting in for recurring donations. Your gift is an investment in future trauma leaders and patient care.


Thank you for giving back and best wishes for the holiday season!



If you prefer to mail in your gift, please download and complete a Donation Form and send your donation with a personal check or credit card information to the address noted on the form. Gifts to EAST are deductible for income tax purposes within the limits prescribed by state and federal laws. Please consult your tax advisor.
---