Volunteer to Serve on the Surgical Critical Care (SCC) Entrustable Professional Activities (EPAs) for the TBSCCB
Tuesday, October 17, 2023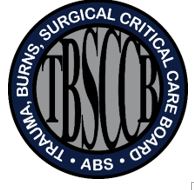 The Trauma, Burn and Surgical Critical Care Board (TBSCCB) of the American Board to Surgery (ABS) is soliciting assistance from the surgical critical care community with developing the Surgical Critical Care (SCC) Entrustable Professional Activities (EPAs) for the TBSCCB.
Creation of EPAs is a multi-step process that involves significant participation from individuals in our community. Specifically, we need volunteers to serve in two capacities.
We are soliciting diplomates to serve as a

TBSCCB-ABS EPA Reactor Panel

to review the SCC EPAs and later,

vet content that is created by the EPA writing group. The time commitment for this will be three or four 1-2 hour virtual meetings over the next 18-24 months, with some reviewing of the written materials in preparation. We are seeking more senior level individuals who can give critical feedback to assure relevance, accuracy, and ability to operationalize each EPA.
We are also seeking a diverse group of volunteers from the SCC community for the

TBSCCB-ABS EPA Writing Group. This group will be tasked with the actual writing of the EPAs used for competency assessment of our SCC fellows. In addition to established surgical intensivists in practice, we are looking to specifically recruit senior residents who plan to enter SCC fellowship, SCC fellows, and junior faculty to participate. The writing committee will initially convene in early winter 2024 with a

90-minute

virtual meeting to charge the group and begin the process. The commitment will be for roughly 1 – 1½ years of work with a mix of video,

three

in-person

meetings in Philadelphia,

and offline work in writing dyads or triads. It is critical that volunteers are willing to commit to the full 12-18 months.
We offer our sincere thanks for assisting us with this important step in the efforts of the surgical education community to advance surgical critical care training in the United States. It is the responsibility of the ABS to assure the public that all certified surgical intensivists have the necessary skills to provide high quality critical care. This is an exciting opportunity to help shape the future of surgical education for years to come and we are pleased to invite you to join us in this collaborative effort of our community. If you are interested in either of the opportunities outlined above, please use the link below to fill out a short form by October 30.
Please use this link if you are interested in volunteering for the Reactor Panel and/or Writing Group