34th EAST Annual Scientific Assembly – Virtual Meeting
Jan 13–14, 2021
Virtual Meeting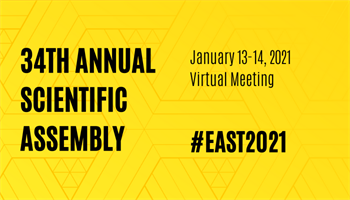 Out of concern for the COVID-19 impact on gatherings and travel, the 34th EAST Annual Scientific Assembly scheduled to take place in Lake Buena Vista, Florida was cancelled ( cancellation notification). Because EAST is committed to providing a forum for the exchange of knowledge to advance the care and rehabilitation of the injured patient, the 34th EAST Annual Scientific Assembly will take place… virtually!
The 34th EAST Annual Scientific Assembly – Virtual #EAST2021 will include more than 50 scientific paper presentations and named lectures. Mark your calendar for this two-day program that will feature excellent science and educational sessions. CME will be available. Click here for more information.
Registration will open in December, 2020. Acknowledging the financial impact on nearly all healthcare systems, registration pricing has been reduced in an effort to ease some of the financial burden for attendees.