What is CNTR? - Webinar
Nov 5, 2020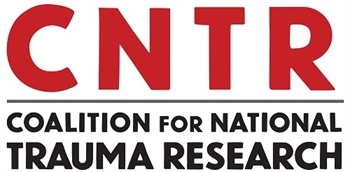 Are you an investigator interested in conducting multicenter, clinical research in the care of trauma patients?
Are you a leader in a professional organization interested in supporting trauma research?
The Coalition for National Trauma Research was established in 2014 by the American Association for the Surgery of Trauma, the American College of Surgeons Committee on Trauma, the Eastern Association for the Surgery of Trauma, the Western Trauma Association, and the National Trauma Institute. The American Burn Association, Orthopedic Trauma Association, Society of Trauma Nurses, Military Health System Strategic Partnership of the ACS, and the American Trauma Society's Trauma Survivors Network have all recently joined as well.
The Mission of CNTR is to enhance trauma research in the U.S. by:
Advocating for sustainable research funding commensurate with the burden of disease
Coordinating research efforts across professional organizations that span the continuum of injury care
Strengthening the infrastructure for multicenter investigation.
To Find Out What the Coalition for National Trauma Research (CNTR) Can do for You
Join us on Thursday, November 5, 2020
4:30 pm-5:30 pm CST
"What is CNTR?" hosted by Dr. Eileen Bulger, Chair of the Board of Directors.
To receive an invitation to attend the webinar so it automatically populates your calendar, email Ana@NatTrauma.org and simply put "What is CNTR" Webinar in the subject line.
She'll send a meeting request.

Please join from your computer, tablet or smart phone
https://global.gotomeeting.com/join/689469573
You can also dial in using your phone
United States: +1 (646) 749-3122 Access Code 689-469-573