TraumaCon 2018 - 21st Annual Conference of the Society of Trauma Nurses
Mar 21–23, 2018
Portland Marriott Downtown Waterfront
Portland, OR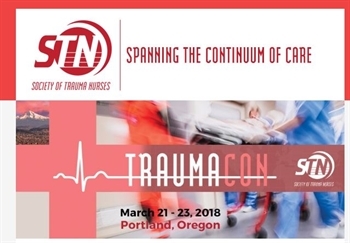 Over this three-day conference, you will have the opportunity to visit with old friends, make new connections, and choose from a variety of high-quality educational programs designed for nurses involved in the care of trauma patients and the management of trauma programs and trauma systems. We expect an audience of more than 600 trauma nurses and nursing professionals. Review the agendato discover the innovative programs and activities our hard-working program planning committee has in store for attendees, and make plans now to attend this highly anticipated event. Click here for more information and to register.
Conference HIGHLIGHTS
Multiple Concurrent Sessions – The conference will feature concurrent sessions on Thursday and "Roundtable Sessions" on Friday morning.
Clinical Topics – The breakout and plenary sessions have an unprecedented amount of clinical content, designed to meet the needs of trauma professionals in a variety of work settings.
Poster Abstract CE – Optional continuing education (CE) for poster abstract reviews will be offered Thursday afternoon after Plenary Session #2.
Plenary Sessions – We're especially proud this year to offer an exceptional line-up of plenary sessions, including

Responding to the Active Shooter,

Strategies to Increase Plasma Availability, and a

Leadershihp Panel, to name a few. Day 1 ends with a Plenary Session to bring everyone back together before review of the poster abstracts.
Special Interest Groups/Committees – These meetings will take place on Wednesday morning, March 21, before the pre-conference sessions. This is a great opportunity to network with other members in your special interest area.
Grand Opening of Exhibit Hall – The celebration and grand opening of the exhibit hall is on Wednesday evening following the pre-conference sessions. Don't miss this opportunity to network with colleagues and vendor partners in the Exhibit Hall.