Envision Physician Services
Posted May 14, 2020
Fort Worth, TX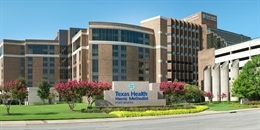 Trauma Surgeon/ACS
Texas Health Harris Methodist Hospital Fort Worth has a longstanding history of providing advanced medical care. Serving North Texas as a designated Emergency Center of Excellence by Emergency Excellence, the hospital has also been awarded the highest advanced certification by The Joint Commission as a Comprehensive Stroke Center and is the first hospital in the country to earn the prestigious designation as a Joint Commission Primary Heart Attack Center.

Hospital website: https://www.texashealth.org/en/Locations/texas-health-fort-worth

Acute Care Surgery Program:
• 722 bed Acute Care Facility
• Current level II in pursuit of level I
• 123,000 Annual ED visits
• 4000 Trauma Visits annually 3300 trauma admissions annually
• 20 bed Trauma/surgical ICU
• 22 bed Neuro ICU
• All Emergency General Surgery covered by Trauma team
• Developing surgical critical care service


Trauma Surgeon Criteria:
• Board Certified Surgery with Trauma/Surgical Critical Care Fellowship Preferred
• ATLS Required
• Willingness to work at on-site clinic for post-op follow up visit

Offering:
• Permanent positions with equitable scheduling model and unique work/rest model
• Paid Malpractice and no attributed overhead expenses
• Employment model with full benefits; including, health and 401K with employer match
• $5,000 CME Allowance
• Competitive Income Potential
• Comprehensive back-end support services including recruitment, credentialing, renewals, billing, follow-up clinic support and more

Community:
• Population of 900.000
• Fort Worth is the fifth largest City in the State of Texas and the 13th largest city in the US. It is the County Seat of Tarrant County covering nearly 350 square miles into three other counties: Denton, Parker, and Wise. According to the 2018 census estimates, Fort Worth's population was 898,919. Fort Worth is the second-largest city in the Dallas-Ft Worth-Arlington metropolitan area, which is the 4th most populous area in the United States.


How to apply
Jeff.Higgins@EnvisionHealth.com
214-425-4054
Location
1301 Pennsylvania Ave
Fort Worth, TX 76104