Featured EAST Mentoring Pair/Family
The EAST Mentoring Committee is proud to introduce the first 2020 "Featured EAST Mentoring Family", congratulations to Dr. Paul Schenarts (Senior Mentor), Dr. Jeffry Nahmias (Mid-Career Mentor), Dr. John Davis (Mentee), and Dr. Andrew Young (Mentee)!
Drs. Schenarts, Nahmias, Davis, and Young were matched as a 2019-2020 Mentoring Family in the EAST Mentoring Program. See what they have to say regarding their mentorship and the EAST Mentoring Program.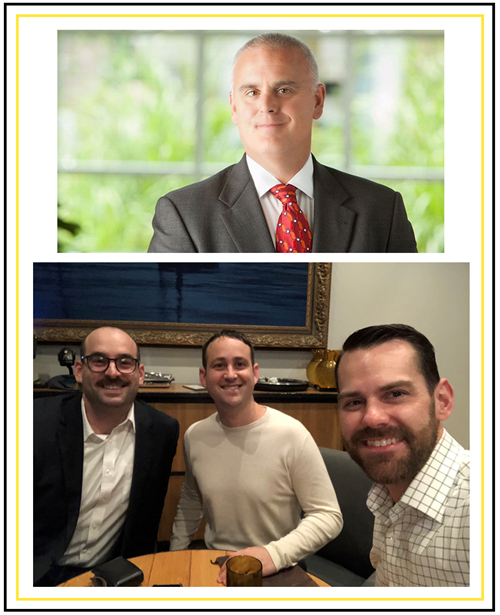 Top: Dr. Paul Schenarts (Senior Mentor)
Bottom (left to right): Dr. Andrew Young (Mentee), Dr. Jeffry Nahmias (Mid-Career Mentor), Dr. John Davis (Mentee)
---
Testimonials:
Dr. Paul Schenarts (Senior Mentor)
Our greatest surgical tradition is holding the professional ladder so others can climb it. I had three EAST Presidents (Drs. Morris, Rotondo, and Sagraves) do that for me, so I am truly honored to carry on this proud tradition. With EAST being dedicated to the development of young surgeons, this program ensures the future of our profession and association is limitless.
Dr. Jeffry Nahmias (Mid-Career Mentor)
Having been a previous mentee within an amazing EAST mentorship pair I was truly excited to join an EAST mentorship family and thereby still get mid career mentorship from someone as amazing as Dr. Schenarts while giving back to Drs. Davis and Young who are in the same place I was a few (maybe not so few now) years ago. As a mentorship family we have all learned from each other and thus EAST mentorship has not only provided me with academic assistance it also has allowed me to connect with other colleagues that I might not have otherwise. It is for these reasons and many more that I strongly urge others to connect via our EAST mentorship program as it is both professionally helpful and personally rewarding.
Dr. John Davis (Mentee)
I am excited to be a part of this EAST Mentoring Family. Drs. Nahmias and Schenarts have already provided incredible insight into how to approach the earliest phases of my career. Also, having an opportunity to meet another early career surgeon, such as Dr. Young, can provide further opportunities for networking and collaboration as we both move forward with our careers.
Dr. Andrew Young (Mentee)
I joined the EAST mentoring program as I was starting my second year of fellowship. I have mentors from residency and now fellowship, so I wasn't sure how the EAST mentoring program would fit in. After the first conference call we had, I knew this was going to be something special. At the time, looking for a job was all I could think about. Dr. Davis, Nahmias, and Dr. Schenarts each had useful perspectives on their career path. Dr. Davis had been in my shoes just a year earlier, Dr. Nahmias had changed jobs (which I thought sounded scary at first, but now sounds like a reasonable option if you need it), and Dr. Schenarts had great advice from someone who does the hiring. They put my mind at ease because it gave me a clear path of what to expect for the next couple of years. We met in person this year at EAST for the first time, and we had a great time sharing our stories. I am very grateful to EAST and to the members that make this possible.
---
Statements posted are those of the Mentor and Mentee and do not represent the opinions of the Eastern Association for the Surgery of Trauma.