Featured EAST Mentoring Pair
The EAST Mentoring Committee is proud to introduce the second 2019 "Featured EAST Mentoring Pair", congratulations to Dr. Shannon Foster (Mentor) and Dr. Meghan Wooster (Mentee)!
Drs. Foster and Wooster were matched as a 2018-2019 Mentoring Pair in the EAST Mentoring Program. See what they have to say regarding their mentorship and the EAST Mentoring Program.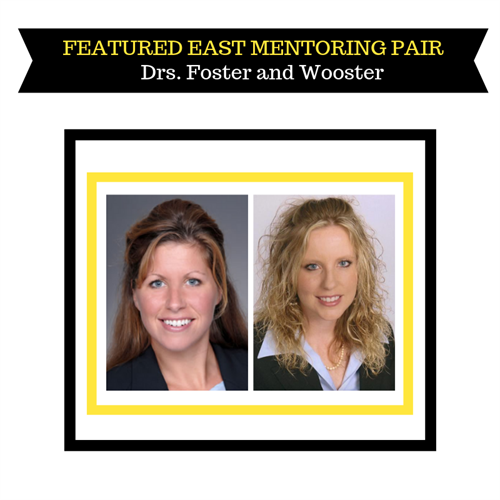 ---
Mentor Testimonial:
Thank you to EAST for a great program and the opportunity to participate. For me, personally, the first step to being a mentor, coach, or guide is a fair amount of honest self-introspection. Understanding my own failures, successes, what I have learned, what I still need to learn, and where my own career goals are leading allows me to candidly share them. As we make our way in this amazing profession, we can all retrospectively list things we wish someone had told us earlier that would have made our lives easier. My goal as a mentor is to do just that for those who come behind.
The hard part of these relationships: Even in the last 10-20 years, the path of medicine, surgery, and trauma has changed substantially and is heavily varied, as is the educational experience of those we are trying to help - and many of their trials and tribulations we cannot personally relate to. To help in that discrepancy I ask for the same level of honest introspection from those who are seeking mentorship, coaching, or guidance.
Weaknesses?

Strengths?

Where are you right now?

What are your own goals?

Where do you want to be in the next months, years, decades?

And, of course, what do you want of me?
While specific task-oriented mentoring is the routine, and still effective in many situations (research and leadership examples abound), I have found that a more fluid relationship works best for me if the desired outcomes include general career advancement, advice, transitions, or a grey-haired escort to identifying ones individualized path. When trust is established, I feel emboldened to impart anecdotes, examples, but most importantly, to teach the tough but needed attribute we all must have to succeed in our trauma world: resilience.
The EAST Mentoring Committee takes time to make insightful and appropriate connections creating relationships that will stand the test of time and outlive the year long program window. My advice to everyone, whether mentor or mentee, the first step to this beneficial experience - when volunteers are called - raise your hand and say "me"! Thanks again to EAST and to my awesome mentees!
Mentee Testimonial:
Being a resident member of EAST and a mentee has been a blessing for me. Surgery residency has often been referred as a marathon rather than a race. No one is more prepared to help you navigate the marathon than those who have gone before us. Dr. Foster has been instrumental in helping me navigate surgery residency. She's served as an objective voice celebrating small victories as well as offering advice and and no nonsense encouragement along the way. For other resident/fellow members in EAST, I strongly recommend becoming a mentee. You'll be pleasantly surprised how natural conversations spark reflection, introspection, and will provide you will tools to assist you on your journey. Thank you again to EAST and Dr. Foster for this opportunity.