Featured EAST Mentoring Pair
The EAST Mentoring Committee is proud to introduce the first 2019 "Featured EAST Mentoring Pair", congratulations to Dr. Ariel Santos (Mentor) and Dr. Sharven Taghavi (Mentee)!
Drs. Santos and Taghavi were matched as a 2018-2019 Mentoring Pair in the EAST Mentoring Program. See what they have to say regarding their mentorship and the EAST Mentoring Program.
---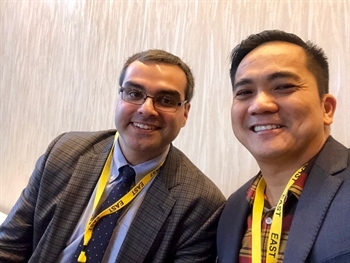 ---
Mentee Testimonial:
EAST has created another wonderful program to help early career trauma surgeons in the Mentoring program. As a mentee, you must put in the effort to get the most out of the program and take an active role. I found it helpful to write down and track my goals for the coming year and EAST provided a template to do so. With Dr. Santos guidance, I was able to identify the goals that were important to me as transitioned from trainee to faculty member. We spoke on the phone and I found it helpful to have an agenda to discuss when I called him. Dr. Santos gave me practical advice as I moved to a new city, navigated the boards, and tried to obtain work-life balance as a young surgeon. A lot of the challenges I met, he had seen before earlier in his career. We met in person at EAST and I plan to stay in touch with him for a long time.
Mentor Testimonial:
I am truly grateful to the EAST for the opportunity to participate in their mentorship program. My experience as a mentee and, now, as a mentor had been nothing less than positive and deeply gratifying. Having received guidance throughout my career from a series of successful mentors who generously shared their time and experience with me, to them I give due credit for the success I've achieved so far in my career. For this reason, I take my responsibilities as a mentor seriously and consider mentoring a means to pay forward the gifts of guidance I have received in the past. In my experience. mentorship requires a high degree of accountability, dedication and sincerity to be effective. Indeed, for a successful outcome, a great deal of trust, honesty, humility, openness, receptivity and a nonjudgmental attitude are needed from both parties in the relationship. As a mentor, I have oftentimes found myself retracing my path including the missteps I've taken and then sharing the lessons I've learned when necessary to guide my mentee. This requires a willingness to be vulnerable which is a challenge for many of us. But, I am lucky to have Dr. Sharven Taghavi as my mentee. He showed me his good qualities as a person and has the making of a successful academic surgeon and family man. From the beginning he was clear about his goals and committed himself to the mentorship program having faith in its value. This we both have in common. As time progressed, each dynamic interaction within the structure of the program produced increasing mutual respect and understanding. Again I am thankful that the program has successfully benefited Dr. Taghavi in achieving his current goal, and, as his mentor, I am happy for him and hope for his continued success.