Featured EAST Mentoring Pair
The EAST Mentoring Committee is proud to introduce the fourth 2019 "Featured EAST Mentoring Pair", congratulations to Dr. Nicole Stassen (Mentor) and Dr. Callie Thompson (Mentee)!
Drs. Stassen and Thompson were matched as a 2018-2019 Mentoring Pair in the EAST Mentoring Program. See what they have to say regarding their mentorship and the EAST Mentoring Program.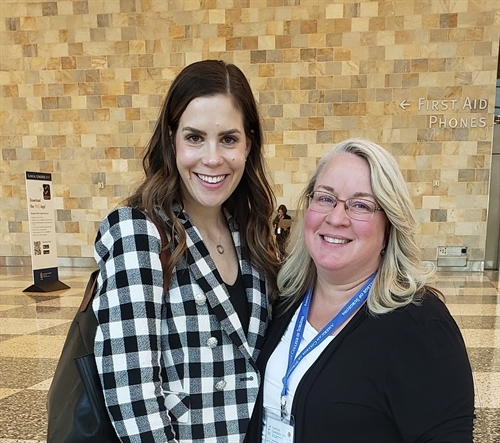 ---
Mentor Testimonial:
The mission of EAST is to provide development for young surgeons who care for the injured patient. My EAST family has played a major role in so many of my career successes. The EAST mentoring program has allowed me to pay forward what my EAST family has done for me. I was so fortunate to be paired with Callie Thompson. During our time as mentor/mentee, we had multiple phone calls and met in-person as frequently as possible, usually at meetings. Our mentoring relationship was truly a two way street as she helped me through challenges in my life and career as well. Working with her and seeing her achieve her goals has been so very rewarding. I am grateful to the EAST mentoring program for connecting me with Callie. Our relationship continues and there is really no limit to what she can accomplish.
Mentee Testimonial:
Throughout training, I was fortunate to have many supportive mentors and sponsors but I found myself struggling a bit as I started my first job out of training. Starting a new role at a new institution isn't easy, I struggled a bit to figure out how to get from where I was to where I needed to be to make my future goals achievable. Thankfully, one of my partners suggested that I might find the EAST mentoring program helpful. I hit the jackpot when I was matched with my mentor, Dr. Nicole Stassen. Dr. Stassen has been an amazing mentor; she is pragmatic, thoughtful, and kind which makes her the ideal person to work through problems and decisions, big or small, with. She spent hours, and I mean hours, on the phone with me listening, prompting, and giving great advice. She has helped me build road maps to my academic surgery goals and made connections for me with people that can help me achieve my goals. We have also connected on a personal level and I am so grateful to have her as a fellow surgeon mom and friend. I cannot recommend the EAST mentoring program highly enough, I credit much of my success as an early academic surgeon to the mentoring relationship that I have developed with Dr. Stassen.
---
Statements posted are those of the Mentor and Mentee and do not represent the opinions of the Eastern Association for the Surgery of Trauma.