Ronald I. Gross, MD, FACS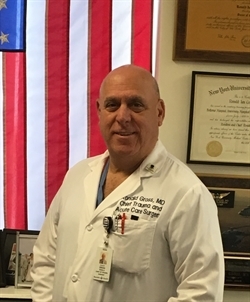 Ronald I. Gross, MD, FACS
Baystate Medical Center
2012, 2015, 2016 & 2017 EAST Mentoring Programs Mentor
Why do you find being an EAST mentor satisfying?

The opportunity to participate in the personal and professional development of the next generation of surgeons is truly satisfying, and the opportunity to learn from these younger surgeons is equally rewarding. I believe that the concept and process of mentoring is contagious, and that what we, as mentors, are doing for our mentees will hopefully inspire them to one day "pay it forward" and do the same to the generation that follows them!

What advice would you give to potential Mentors regarding the optimal way(s) to advise a Mentee?

First and foremost - LISTEN. Let your mentees tell you about themselves: their likes and dislikes, what makes them excited during the work day, what they see themselves doing in 5 and 10 years and where they want to do that. Remind them that the goals they have today will likely change several times over the course of the next decade, and the ability to be flexible will be a huge asset. Work with them as they move through the early years of their careers, and help pave the way by providing advice and helping them make key contacts that will assist them in the future, both near and distant. As our younger colleagues traverse the uncertainties of life (both personal and professional), we, as mentors, must help them remained focused on the reason that we all because surgeons - to help the sick and injured and their families to the best of our ability. Personally, I love how Dr. Norman McSwain used to greet people when he met up with them; he always said, "Wh at have you done for the good of mankind today?". Lastly, we, as mentors, must help our younger colleagues learn how to achieve the proper balance between work and home, something that for too long our profession has failed to do.

Why would you recommend that young EAST members seek out a Mentor through this program?

"Seniority" can and should be a benefit for both the mentor and mentee. In fact, when done correctly, mentoring is a multifaceted collaborative effort between a junior and senior professional, with the primary goal of mentoring being the nurturing of the mentee, both personally and professionally. That being said, if the relationship is a good one, I firmly believe that we, as mentors, have the opportunity to learn as much from our mentees and we teach them! Experience in life and in surgery will never be gained in a day, a week, a year, or even a decade. Experiential learning occurs o ver a lifetime, and young EAST members should take advantage of those who have "been there and done that".....and own an EAST T-Shirt!

What experiences/skills have helped you become a good Mentor?

I think that for me the most telling experiences have been those where I did NOT have a mentor, and I was forced to struggle through difficult times, at time failing and at times succeeding, and often not understanding why in either case. As time progressed and I was lucky enough to find a mentor, I realized just how valuable another set of eyes and ears could be - how important it was to have an unbiased but friendly and concerned "sounding board". From these people I have learned humility, I have learned how to trust, and what it takes to be trusted. Most importantly, however, I have learned to listen without being judgmental, and my mentors have taught me that there are so many different means to an end.......and that no two ends have to be common.

Tell us about a Mentor that had an impact on your career?

I have had many remarkable mentors over the last 40+ years, all of which have impacted me in their own special way, so to cite one would be difficult. I can say, however, that all of them have cumulatively brought me to where I am, and have made me the person that I am today - and I feel so lucky and blessed to have had them in my life.

What one piece of advice do you have for young physicians who have chosen a career in trauma?

Listen to your patients and never loose your compassion for your fellow man, regardless of the circumstances under which you meet.

That being said, I must say one more thing - NEVER forget that trauma will be your life, but you must live for your family.