AAST-EAST-SCCPDS Virtual Job Fair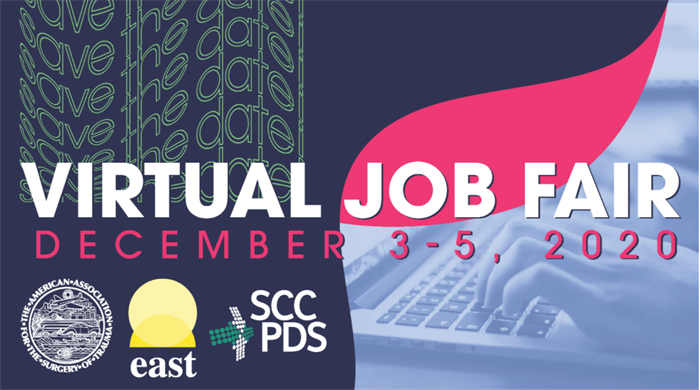 The American Association for the Surgery of Trauma (AAST), the Eastern Association for the Surgery of Trauma (EAST) and the Surgical Critical Care Program Directors Society (SCCPDS) will be hosting a virtual job fair December 3-5, 2020.
December 3-4: 8:00 – 5:00 Central
December 5: 8:00 am – 12:00 pm Central
(times subject to change)
This experience will be unique and beneficial for both job seekers and employers who are finding it difficult to connect with each other, while we still grapple with social distancing orders for the unforeseen future.

With a virtual job fair platform, we are eliminating all social distancing concerns, giving unlimited reach for recruiters to attract an unlimited number of candidates and control for reduced costs, and it's easily accessible to everyone. There is no travel needed, which makes the hiring process more efficient and effective.
---
Job Seekers
This will be an opportunity to engage with employers and leadership from respected institutions & universities, while also networking with your peers. For more information, visit the Job Seekers page.
---
Town Hall Series
In anticipation of the virtual job fair, the AAST Associate Member Council and EAST Mentoring Program presents the professional development town hall webinars. This series of webinars will offer pearls regarding the preparation of your application, refining your interview skills, as well as learning the right "fit" when it comes to securing your first job. For more information, visit the Town Hall Series page.
---
Hiring Institution Registration
For the employer, this platform will give you the ability to broaden your reach for qualified candidates to fulfill multiple vacant positions by participating in this 3-day event. For more information and registration fees, visit the Recruiter Information and Virtual Job Fair FAQs pages.