Dr. Kimberly A. Davis
Thank you to Dr. Kimberly A. Davis for supporting the EAST Development Fund!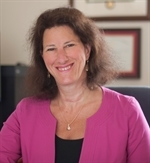 Kimberly A. Davis, MD, MBA
Yale School of Medicine
EAST President 2014
Donor Story
I have supported the EAST Foundation, and now the EAST Development Fund for over a decade. In my mind, supporting the EAST Development Fund is supporting the very essence of EAST: advancing science, fostering relationships, and building careers.
Many a young investigator has used Development Fund monies to get preliminary data, resulting in more significant national extramural funding. The Templeton award has promulgated injury prevention research and outreach dissemination. The Dodgeball Tournament supports camaraderie in a relatively "safe" space and breaks down walls between Active and Senior EAST members. And the Leadership Workshops have fostered skills in many junior trauma surgeons who have gone on to be leaders in their fields.
If you believe in the mission of EAST, you must believe in the importance of the Development Fund. Please donate and help us to support the growth and development of the next generation of trauma surgeons.