Dr. Kari F. Jerge
Thank you to Dr. Kari F. Jerge for supporting the EAST Development Fund!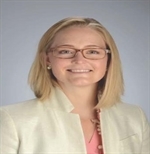 Kari F. Jerge, MD
HSHS Medical Group
Donor Story
Of all of the national trauma societies, EAST is the most compelling and engaging for young surgeons.
Whereas other societies develop exclusive memberships, EAST is a warm, welcoming group for ambitious young trauma surgeons who seek to make their way in this amazing community of supportive and engaged members. The mentorship opportunities, in particular, are enormously important for young surgeons like myself. There is no better group to stay at the cutting edge and make your mark as a young surgeon.