Dr. Alicia M. Mohr: Recipient of the 2003 EAST Trauma Research Scholarship
The EAST Trauma Research Scholarship is funded through contributions to the EAST Development Fund during #GivingTuesday.
Read on to learn how the scholarship has helped recipients like Dr. Alicia Mohr and help support the work of surgeon-scientists on #GivingTuesday by making a donation anytime now through November 27, 2018.
---
Dr. Alicia Mohr: Recipient of the 2003 EAST Trauma Research Scholarship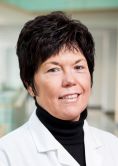 Alicia M. Mohr, MD University of Florida
Testimonial
The EAST Trauma Research Scholarship is a great opportunity for an Acute Care Surgeon to begin their academic career. The potential of this initial seed can be limitless.
Personally, I began a basic science study that examined the beta adrenergic modulation of erythropoiesis in trauma. Receipt of this initial scholarship provided the necessary first step for obtaining preliminary data that was translated into a NIH NIGMS K08 (GM078301) award that was matched in funding by the Clowes ACS/AAST Research scholarship. The continued success of my basic science research led to a NIH NIGMS R01 (GM105893) that studied anemia and the chronic hyperadrenergic state following major trauma.
The initial EAST Trauma Research Scholarship has led to continued funding from the NIH for ten years and has allowed me to grow from a junior surgeon-scientist to a senior surgeon-scientist.
Area of Research: Beta Adrenergic Modulation of Erythropoiesis in Trauma
---
*The Eastern Association of the Surgery for Trauma ("EAST") is a Tennessee nonprofit corporation exempt from federal income tax pursuant to Internal Revenue Code Section 501(c)(3). Gifts to EAST are deductible for income tax purposes within the limits prescribed by state and federal laws. Please consult your tax advisor.