Dr. Ashley B. Hink
Dr. Ashley B. Hink: Recipient of the EAST Oriens Award (2017 Resident Essay Winner)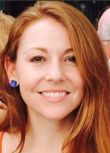 Ashley B. Hink, MD, MPH
MUSC
Testimonial
Winning the 2017 Oriens essay award was a great honor, not necessarily because of the award, but because I was able to share how important the practice of trauma surgery is to me and hopefully remind others why they also went into the field. We work tirelessly to help patients at critical times in their lives, and it's easy to forget how amazing it is to be a part of that and truly provide care for anyone in need of care. Sharing my reflection of this role at EAST hopefully reinvigorated similar memories that inspired surgeons to enter the field and reminded them what an amazing profession this is.
This was my first time at EAST, and it was a great opportunity for networking, creating research and advocacy collaborations, and education. There are many ways for residents to be involved, and they should take advantage of the many opportunities EAST provides.
Read Dr. Hink's essay here.
The EAST Oriens Award is funded through contributions to the EAST Development Fund. To learn more about this award, click here.
Consider paying it forward to EAST this April to support awards such as the EAST Oriens Award. Donate today.
---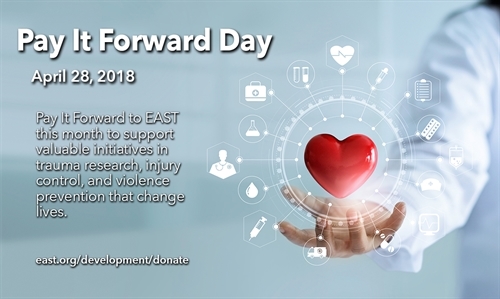 On April 28, 2018, EAST is celebrating Pay it Forward Day, a global initiative that encourages people to perform acts of kindness for others without expecting anything in return. Instead, recipients are asked to pay the kindness forward to others, creating a ripple effect of giving.
This April, consider paying it forward with a donation to the EAST Development Fund so that EAST can continue to support up-and-coming investigators whose innovative and unique research ideas can reduce the incidence of trauma and improve the care of the injured patient. When you consider that trauma is the leading cause of death in the USA among those 46 and younger, yet one of the most poorly funded areas of research relative to disease burden, it becomes clear that investment is required if advances in injury control and prevention are to be realized and the burden of disease reduced.
EAST does invest through scholarships and awards that support trauma research thanks to your generosity. Visit the EAST Development Fund page to learn more about the many ways that EAST supports investigators who are committed to changing the future of trauma and find their stories below.
This April, consider paying it forward to EAST with a donation to support valuable initiatives that can change lives. One good deed might not seem like a lot, but when each person does a good deed, the ripple effect of generosity can change the world.
Thank you for your support.