Dr. Ashley B. Hink
Dr. Ashley B. Hink: Recipient of the EAST Oriens Award (2017 Resident Essay Winner)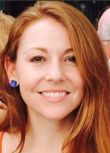 Ashley B. Hink, MD, MPH
MUSC
Testimonial
Winning the 2017 Oriens essay award was a great honor, not necessarily because of the award, but because I was able to share how important the practice of trauma surgery is to me and hopefully remind others why they also went into the field. We work tirelessly to help patients at critical times in their lives, and it's easy to forget how amazing it is to be a part of that and truly provide care for anyone in need of care. Sharing my reflection of this role at EAST hopefully reinvigorated similar memories that inspired surgeons to enter the field and reminded them what an amazing profession this is.
This was my first time at EAST, and it was a great opportunity for networking, creating research and advocacy collaborations, and education. There are many ways for residents to be involved, and they should take advantage of the many opportunities EAST provides.
Read Dr. Hink's essay here.
The EAST Oriens Award is funded through contributions to the EAST Development Fund. To learn more about this award, click here.
Consider a donation to support awards such as the EAST Oriens Award.