Dr. Lucy Z. Kornblith
Dr. Lucy Zumwinkle Kornblith: Recipient of the 2018 EAST Trauma Research Scholarship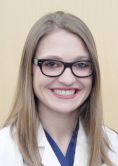 Lucy Zumwinkle Kornblith, MD UCSF Medical Center
Testimonial
My ultimate career goal is to become an independently funded trauma surgeon-scientist. The EAST Research Scholarship gives me the opportunity to perform critical preliminary investigations toward identifying the mechanistic role of platelets and platelet-endothelial interactions in trauma-induced coagulopathy. In an atmosphere of scarce funding opportunities, this scholarship will allow me to build a scientific foundation upon which I can study post-injury platelet biology to ultimately reduce the morbidity and mortality associated with post-injury hemorrhage through novel platelet-based therapies.
Area of Research: post-injury platelet biology
The EAST Trauma Research Scholarship is funded through contributions to the EAST Development Fund. To learn more about this award and past recipients, click here.
Consider a donation to support awards such as the EAST Trauma Research Scholarship.