Dr. Rishi Rattan
Dr. Rishi Rattan: Recipient of the EAST GRADE Workshop Scholarship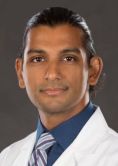 Rishi Rattan, MD
University of Miami
Testimonial
EAST's commitment to forwarding the best possible care for trauma patients worldwide with robust evidence-based guidelines and the development of future leaders in trauma care and research are embodied by their EAST Development Fund scholarships for the GRADE Workshop.
I feel privileged to have been selected for this mentored experience in helping to create higher levels of patient-centered care founded on the strongest possible science. EAST is invested in the future of trauma surgeons and the entire field of surgical critical care, trauma, and acute care surgery. I have found the experience essential in allowing me to contribute meaningfully alongside my EAST colleagues.
The EAST GRADE Workshop Scholarship is funded through contributions to the EAST Development Fund.
Consider paying it forward to EAST this April to support awards such as the EAST GRADE Workshop Scholarship. Donate today.
---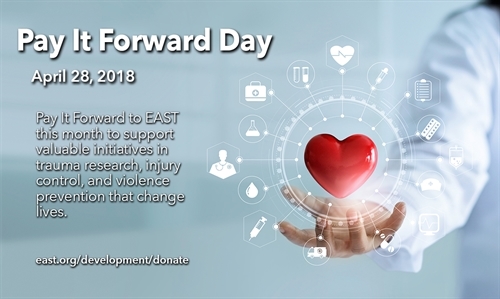 On April 28, 2018, EAST is celebrating Pay it Forward Day, a global initiative that encourages people to perform acts of kindness for others without expecting anything in return. Instead, recipients are asked to pay the kindness forward to others, creating a ripple effect of giving.
This April, consider paying it forward with a donation to the EAST Development Fund so that EAST can continue to support up-and-coming investigators whose innovative and unique research ideas can reduce the incidence of trauma and improve the care of the injured patient. When you consider that trauma is the leading cause of death in the USA among those 46 and younger, yet one of the most poorly funded areas of research relative to disease burden, it becomes clear that investment is required if advances in injury control and prevention are to be realized and the burden of disease reduced.
EAST does invest through scholarships and awards that support trauma research thanks to your generosity. Visit the EAST Development Fund page to learn more about the many ways that EAST supports investigators who are committed to changing the future of trauma and find their stories below.
This April, consider paying it forward to EAST with a donation to support valuable initiatives that can change lives. One good deed might not seem like a lot, but when each person does a good deed, the ripple effect of generosity can change the world.
Thank you for your support.