Dr. Rishi Rattan
Dr. Rishi Rattan: Recipient of the EAST GRADE Workshop Scholarship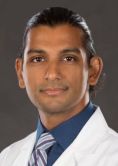 Rishi Rattan, MD
University of Miami
Testimonial
EAST's commitment to forwarding the best possible care for trauma patients worldwide with robust evidence-based guidelines and the development of future leaders in trauma care and research are embodied by their EAST Development Fund scholarships for the GRADE Workshop.
I feel privileged to have been selected for this mentored experience in helping to create higher levels of patient-centered care founded on the strongest possible science. EAST is invested in the future of trauma surgeons and the entire field of surgical critical care, trauma, and acute care surgery. I have found the experience essential in allowing me to contribute meaningfully alongside my EAST colleagues.
The EAST GRADE Workshop Scholarship is funded through contributions to the EAST Development Fund.
Consider a donation to support awards such as the EAST GRADE Workshop Scholarship.