Registration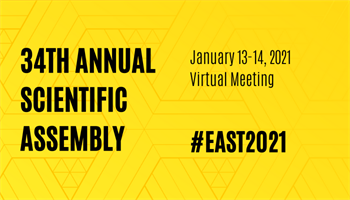 The 34th EAST Annual Scientific Assembly is available On Demand through March 31, 2021 to paid registrants via the virtual assembly platform.

Register and Access Information on Demand

Registration Brochure

For questions regarding registration, email registration@facs.org or call (312) 202-5244. Please note that due to COVID-19 access to phone is limited.
Registered Attendees - Access the virtual assembly platform using the button below. Login with Last Name and Badge Number provided in your registration confirmation. Contact registration@facs.org to obtain your registration confirmation.

Access Virtual assembly

The virtual assembly includes more than 50 scientific paper presentations and named lectures. For information pertaining to the schedule of events, download the Scientific Schedule. CME is available.

The 34thEAST Annual Scientific Assembly featured: