Featured EAST Mentoring Pair/Family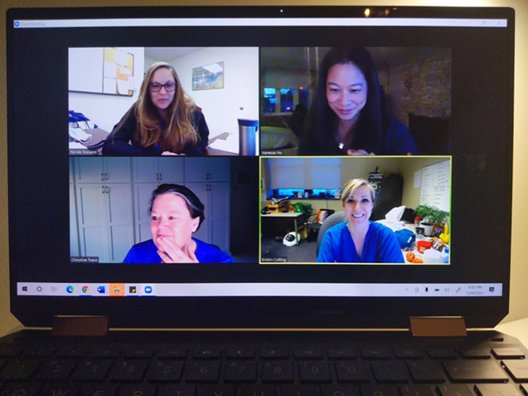 Featured Mentoring Family

Top left: Dr. Nicole Toscano (Mentee), Top right: Dr. Vanessa Ho (Mentor), Bottom left: Dr. Christine Toevs (Mentor), Bottom right: Dr. Kristin Colling (Mentee)
Read their testimonials below.
Testimonials:
Nicole Toscano:
The EAST mentoring program has been a great way for me to be grow as a junior attending. As I start off my career, the opportunity to meet mentors who can share in my experiences and provide advice is truly a gift. My mentors have already helped to shape my career path and have given me resources to excel beyond my expectations. I can't wait to see what the rest of the year brings and I am so thankful for my mentoring family! Every resident, fellow, and junior faculty member should join in this unique experience!
Christine Toevs:
Trauma Surgery is a very interesting career path with varying opportunities for clinical care, administration, research and education. The chance to mentor others early in their career in Trauma and share experience, lessons learned, guidance, and expertise is invaluable. EAST's mentoring program allows for the building of relationships and resources needed to succeed and helping a new trauma surgeon thrive is exciting.
Vanessa Ho:
I've been so lucky to have been a part of EAST's mentoring program as a mentee, and this is my first time as a mentor. Having a mentor family has been extremely rewarding, especially since I'm in the "middle" of the family! I've learned some great practical tips from Christine, and hopefully give a few myself. We have talked about a variety of topics in academic surgery. For example: managing work hours, taking credit for the things we already do, and using your time off wisely! Can't wait to meet up in person.
Kristin Colling:
I joined the EAST mentoring program to help support me as I develop as a early career trauma surgeon and surgeon-scientist. Having the opportunity to learn from 3 amazing surgeons, has been wonderful. I have gained many insights into growing in my career, as a surgeon, leader, and researcher. I have been able to set new and more concise goals for the near future, as well as set long term goals with a more concrete plan to actually achieve them. I can't wait to continue to learn from my EAST mentoring family, and hope to continue the process through the years to come.
Statements posted are those of the Mentor and Mentee and do not represent the opinions of the Eastern Association for the Surgery of Trauma.
---