University Medical Center of Southern Nevada
Affiliated with Kirk Kerkorian School of Medicine at UNLV — Las Vegas, NV
Trauma only
Critical Care only
Trauma & Critical Care
Acute Care Surgery
Advanced Practitioner
Duration: 2 years
Positions available: 4
Salary: PGY 6-7
Program Director: Douglas Fraser, MD FACS
Last updated: February 07, 2023
---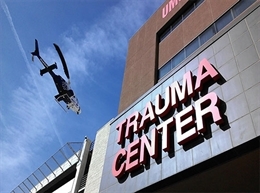 A two year Acute Care Surgery Fellowship is offered in our busy Level I Adult and Level II Pediatric Trauma Centers. The first year consists of the fellow matching into our ACGME approved Critical Care Fellowship. The second year involves advanced surgical training in the Nation's first AAST approved Acute Care Surgery Fellowship Program. The Acute Care Surgery curriculum includes trauma surgery, general surgery, pediatric surgery, thoracic/vascular surgery, neurologic surgery, orthopedic surgery, and interventional radiology. Electives are offered in burn surgery, colon and rectal surgery, and Trauma systems [EMS experience]. Training is completed at the University Medical Center, Nevada's only level I and Pediatric Level II Trauma Center. The Trauma Center cares for 4,500 patients a year and performs over 400 exploratory laparotomies and 75 thoracotomies a year. In addition there are over 3000 acute surgical cases per year.

Requirements include completion of an approved residency in General Surgery and that the applicant be BE/BC. Applicants must also qualify for a Nevada medical license and malpractice coverage. In addition to clinical excellence, a documented commitment to academic excellence is essential.

Our busy Level I Trauma Center is in a metropolitan university setting. We evaluate 10,000 patients annually, 4,500 of which meet trauma activation criteria. Our mix is 80% blunt and 20% penetrating trauma, arriving from a 300+ mile radius, which includes Nevada and portions of Arizona, Utah and California.

We have the only "stand alone" trauma center west of the Mississippi River, with a dedicated trauma resuscitation area, CT scanner, angiography suite and three dedicated operating rooms for trauma and trauma ICU cases. A dedicated 14-bed Trauma Intensive Care Unit adjoins the Resuscitation and Operating areas.


RRC/ACGME and AAST approved
Program started 2000
How to apply
douglas.fraser@unlv.edu - (702) 671-2273 (phone) , (702) 385-9399 (fax)
Qualifications: Requirements include completion of an approved residency in General Surgery and that the candidates be BC/BE. Candidates must also qualify for a Nevada medical license and malpractice coverage. In addition to clinical excellence, a documented commitment to academic excellence is essential.
Please use the following online fellowship application service:

https://safas.smapply.io/

For inquiries or questions please contact:

Dr. Douglas Fraser, MD
Division Chief - Acute Care Surgery
Trauma Medical Director - UMC Level 1 Trauma Center
Program Director - Acute Care Surgery Fellowship
1701 W Charleston Blvd
Suite 490
Las Vegas, NV 89102

https://www.unlv.edu/medicine/surgery/acute
Research opportunities
We have a robust Acute Care Surgery Research Committee with weekly meetings and ongoing projects. Upon arrival as new fellows, ongoing and new projects are assigned for those interested and presentations at national meetings are encouraged.
About the hospital
Beds: 520
ICU beds: 50
Annual ED visits: 120000
Annual trauma admissions: 4000
Trauma faculty: 8
Fellowship procedures
Total surgical (annually): 2850
General surgical: 50%
Trauma: 50%
Blunt trauma: 80%
Penetrating trauma: 20%
Location
1701 W. Charleston Blvd STE 490
Las Vegas, NV 89102
Website