Christiana Care Health System
Affiliated with Sidney Kimmel Medical College of Thomas Jefferson University, Philadelphia, PA — Newark, DE
Trauma only
Critical Care only
Trauma & Critical Care
Acute Care Surgery
Advanced Practitioner
Duration: 1 or 2 years
Positions available: 2
Salary: $72,945
Program Director: Luis Cardenas, DO PhD
Last updated: January 25, 2018
---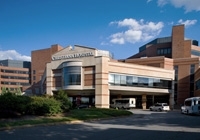 The clinical fellowship in Surgical Critical Care (SCC) provides a formal, intellectual environment for acquiring the knowledge, skill, clinical judgment, and attitude essential to the practice of Surgical Critical Care in an ACGME approved program. The program is designed to provide advanced critical care training to graduates of approved surgical residencies (or selected surgical residents above the PGY-3 level) to acquire expertise as a practitioner, consultant, and teacher in critical care. The program emphasizes scholarship, self-instruction, development of critical analysis of clinical problems, the ability to prioritize patient care needs, and the ability to make appropriate decisions. Although clinical care and didactic instruction are the backbone of this experience, the Fellow constantly participates in research and administrative activities. In addition, the SCC Fellow is specifically involved in continual graduate (house staff) and undergraduate (medical student) medical education. It is hoped that this fellowship experience will result in a well-rounded surgeon who has the tools for a leadership position in Surgical Critical Care and who has learned to function in an intensive care unit (ICU), providing quality, cost-effective care. Upon successful completion the fellow will be eligible to sit for the ABS Surgical Critical Care Examination.

The academic structure of the Surgical Critical Care program will provide in-depth knowledge of physiology, pathophysiology, diagnosis, and treatment of critically ill patients. The majority of the clinical and educational training centers around a 22-bed Surgical Critical Care Complex (SCCC). The SCCC Service participates in the care of patients in a wide spectrum of surgical subspecialties, including Trauma, General Surgery, Vascular Surgery, Orthopedic Surgery, Neurosurgery, Urology, Obstetrics/Gynecology, Otorhinolaryngology, Oral and Maxillofacial Surgery, and Plastic Surgery. Fellows can complete up to a one-month rotation in cardiovascular intensive care (CVICU) which includes Extracorporeal Membrane Oxygenation (ECMO). Mandatory one-month rotations in Neurocritical care (NCCU) and at the Alfred I DuPont Hospital for Children Pediatric ICU are included in the curriculum. Elective time is also available with appropriate educational justification in areas such as Burn Critical care, Research, Quality and Performance Improvement, Acute Care Surgery, Palliative Care, Telemedicine and Peri-Operative Anesthesia.

The core of the didactic component of the SCC fellowship consists of educational lecture series, which the Fellow is expected to attend. This series, focused at the level of the Fellow and faculty, alternates between a research conference, didactic lecture, journal club, and morbidity and mortality conference. The SCC Fellow also attends the weekly Trauma Service Multidisciplinary Conference and the Department of Surgery Morbidity and Mortality Conference. Additional certifications opportunities include: ATLS instructor, ATOM and ASSET certification (and possible instructor status), SCCM Adult Critical Care Ultrasound and currently in development, an adult trans-thoracic and trans-esophageal echocardiography certification for the critically ill patient.
Program started 2002
How to apply
rhaschak@christianacare.org - (302) 733-4260 (phone) , (302) 733-4264 (fax)
Qualifications: Qualified applicants will have successfully completed a minimum of three years (for the Surgical Critical Care fellowship) or five years (for the Acute Care Surgery fellowship) of education and training in an ACGME-accredited General surgery residency program.
The Surgical Critical Care and Acute Care Surgery Fellowship Programs select candidates based on academic credentials, previous experience, communication skills, and personal qualities such as motivation and integrity. The programs do not discriminate with regard to sex, base, age, relation, collar, national origin, sexual orientation, disability or veteran status.
Applicants to the Surgical Critical Care and Acute Care Surgery Fellowships must submit a complete application via SAFAS https://safas-sccpds.fluidreview.com/ by July 1st, and will be chosen through the National Resident Matching Program (NRMP)on Match Day. Interview dates will begin in May and run through July.

Program Coordinator - Ruth Ann Haschak
4755 Ogletown-Stanton Road
Surgical Critical Care Office – Room 2A25
Newark, DE 19718

Research opportunities
Fellows are given ample opportunity to participate in research, multidisciplinary quality and performance improvement projects, protocolization of care and ICU administration.
About the hospital
Beds: 913
ICU beds: 22
Annual ED visits: 197340
Annual trauma admissions: 4800
Trauma faculty: 10
Fellowship procedures
Total surgical (annually): 45000
General surgical: 15%
Trauma: 85%
Blunt trauma: 90%
Penetrating trauma: 10%
Location
4755 Ogletown-Stanton Road
Newark, DE 19718
Website