BANNER UNIVERSITY MEDICAL CENTER - PHOENIX (BUMC-P)
Posted Jun 23, 2021
Phoenix, AZ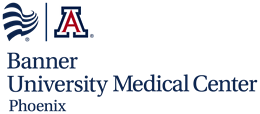 CLINICAL FACULTY: ORTHOPEDIC TRAUMA SURGEON
At the End of the Day, THIS is Where You Want to Be!

Banner University Medical Center Phoenix is seeking an ABMS/ABOS Orthopedic Trauma Surgeon. This is an ideal opportunity for an intermediate to mid-career Orthopedic Traumatologist, with a special interest in Foot & Ankle or Pelvic/Acetabular fixation. The successful candidate will join an academically oriented, supportive, collegial group with a focus on evidence-based medicine, progressive teaching, and research. As clinical faculty you will provide medical care to an assigned patient population and maintain timely and appropriate documentation of such care and will share weekend and nighttime call duties as necessary. One clinic day a week.

The qualified candidate will receive a faculty appointment consistent with their credentials and also have faculty status at the University of Arizona, which includes a generous tuition discount for the applicant and immediate family members.

Qualifications and details include:

• MD or DO
• Must have AZ license (or eligibility to receive by hire date)
• Searching for experience surgeons with 3+ years post-training experience
• Must be ABMS/ABOS Board Certified or Board Eligible and Orthopedic Fellowship trained
• FTE, generally 1 day of clinic, 2 days of OR
• Hospital call requirements
• Inpatient and Outpatient facilities for surgical procedures
• Practice Profile: 3 Surgeons, 3 Primary Care Sports Med, 1 PM&R, 2 PAs
• Average number of Patients per clinic day 50-60
• 20 Orthopedic residents

Banner - University Medical Center Phoenix is a nationally-known academic medical center and the primary teaching facility of the University of Arizona College of Medicine - Phoenix. BUMC-P is a 733 bed, Level 1 Trauma facility. As the largest and one of the most comprehensive tertiary care facilities in Arizona, it provides a full complement of subspecialties including cardiac care, transplant services, oncology, high-risk obstetrics, CARF certified stroke, head injury and general inpatient rehabilitation, epilepsy center, Alzheimer's Institute, and outpatient clinics on campus in primary and specialty care. BUMC-P has been cited for 12 years as one of America's "Best Hospitals" by U.S. News & World Report and is consistently rated as a "Best Place to Work" in Arizona.

How to apply
We offer an attractive salary plus recruitment incentives. Interested applicants are encouraged to join our physician talent community where you can upload your CV and track application progress: https://practicewithus.bannerhealth.com/s/job-board?id=a3l3u000000Bpix&src=SIRS# For questions, please call Joanna Wilkes, Sourcing Strategist, at: 602-747-4521. Visit our website at: www.bannerdocs.com

As an equal opportunity and affirmative action employer, Banner University Medical Group (BUMG) recognizes the power of a diverse community and encourages applications from individuals with varied experiences and backgrounds. BUMG is an EEO/AA - M/W/D/V Employer.

Location
1111 E McDowell Rd
Phoenix, AZ 85006