University of Maryland Capital Region Hospital
Posted Jun 14, 2022
Largo, MD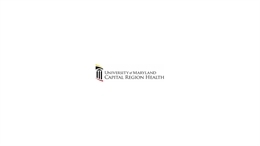 Chief of Trauma - Department of Surgery
The Program in Trauma at the University of Maryland School of Medicine and the R Adams Cowley Shock Trauma Center seek applications and nominations for Chief of Trauma at Capital Regional Medical Center (CRMC). CRMC is a Level 2 Trauma Center designated by the Maryland Institute for Emergency Medical Services System that see over 3,000 trauma patients per year with a high percentage of penetrating trauma. The trauma faculty are 6FTE who are also responsible for emergency general surgery and surgical critical care.

The successful candidate must be a superb clinician. Administrative experience is preferred. The successful candidate will be responsible for organizing care, supervising faculty, and will be an important individual in the hospital's administrative structure.

The successful candidate should have an MD degree or it's equivalent. Residency training in Surgery and Fellowship training in critical care is essential.

Appointment will be at the appropriate academic level with salary commensurate with qualifications and experience. A competitive salary is being offered and the position is currently available. Cheverly is located near DC and Baltimore metro areas.

How to apply
For immediate consideration, please submit your applications using the following links:

https://umb.taleo.net/careersection/umb_faculty+and+post+docs/jobdetail.ftl?job=220000VR&lang=en

Location
901 Harry S Truman Dr
Largo, MD 20774