EAST Twitter Journal Club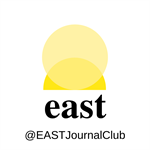 Participate in EAST's Twitter Journal Club, #EASTjc. EAST moderators will regularly join authors of current articles of interest to EAST members for an informal discussion on Twitter of the articles' specifics and of related topics. These "Twitter chats" are open to the public, allow authors to discuss their advances with an interesting and diverse audience, and increase understanding and awareness of current studies among trauma and acute care surgeons and other healthcare providers. To prepare for the next #EASTjc chat, follow @EASTJournalClub on Twitter.
Need more info on how to participate? Read on.
Getting Started with Twitter
Dr. Heather Logghe has posted an excellent introduction to the service, including signing up and creating your profile. Go to "Twitter 101: How to Set Up a Professional Twitter Account" for information.
Once you've signed up, learning to use the service isn't hard. The University of Utah Health Sciences has developed an easy-to-read handout, "Twitter 101: Understanding & Navigating Twitter" that describes @s, #s, replies, DMs, & RTs and other basics for health care professionals getting started on Twitter.
Joining a Twitter Chat
"Hashtags" like #EASTjc allow many people to easily talk about a single subject without the "reply-to-a-reply-to-a-reply" chains seen in email or in small Twitter conversations. A group of people can use the same hashtag to create a "tweetchat" that can then be easily followed, searched, and archived. To participate in the EAST Twitter Journal Club discussion, just include "#EASTjc" in your tweet; following the ongoing discussion is as easy as tapping or clicking on the #EASTjc hashtag or searching for it on the web or on your device's Twitter app. More tips and tricks for participating in a Twitter chat are available in the SocialTimes article, "Advanced Twitter Tip: How to Join a Twitter Hashtag Chat".