Program Book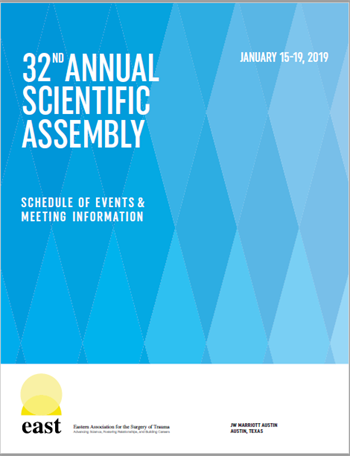 EAST stayed green in 2019! A traditional printed program book will not available. Instead we have established a virtual program book with information pertaining to the assembly available for download or viewing from your electronic device. The Meeting App is another virtual application available to you for obtaining Assembly information. Information on this page is subject to change. Any updates to the information will be noted.
WiFi Access - Network Name: EAST2019 Passkey: 2019east (case sensitive)

Click here to participate in the Social Q/A at the EAST Annual Scientific Assembly

Full Program Book - Large File - information is subject to change. Updated 1/16/2019.
Download the Meeting App

Quick Links - information subject to change.
CME & CNE Information
Overall Schedule - Updated 1/2/2019
Scientific Schedule - Updated 1/17/2019
Scientific Abstracts - Updated 1/2/2019
Handouts and Syllabi - Information subject to change
Scientific Papers That Should Have Changed Your Practice Plenary - Reference List
EAST Leadership Development Workshop Handout
EAST Chief Residents & Fellows Workshop Handout
EAST Advanced Practitioners Workshop Handout - updated 1/11/2019
EAST Short Course - Kickstarting Your Research Career Handout
EAST Short Course - Hospital Based Injury Prevention Program Development Handout
EAST Short Course - Developing a Trauma Quality & Safety Program Handout