Annual Scientific Assembly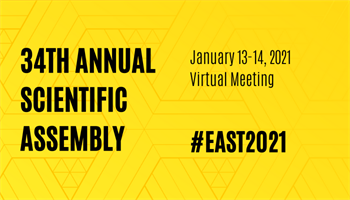 34th EAST Annual Scientific Assembly – Virtual
Advancing Science
#EAST2021
January 13-14, 2021
Click Here for the Virtual Meeting Platform
Registered Attendees - Login with Last Name and Badge Number provided in your registration confirmation. Contact registration@facs.org to obtain your registration confirmation.

The 34th EAST Annual Scientific Assembly – Virtual #EAST2021 includes more than 50 scientific paper presentations and named lectures. CME is available.
ON DEMAND
The program is available On Demand through March 31, 2021 (Registration and registration fees paid required). Paid registrants may sign into the Virtual Meeting Platform and view content.

Register and Access Information On Demand

Program Information and Scientific Schedule
50 Scientific papers featuring original scientific work
33 Scientific Papers
17 Quick Shots
Out of concern for the COVID-19 impact on gatherings and travel, the 34th EAST Annual Scientific Assembly scheduled to take place in Lake Buena Vista, Florida was cancelled (cancellation notification). Because EAST is committed to providing a forum for the exchange of knowledge to advance the care and rehabilitation of the injured patient, the 34th EAST Annual Scientific Assembly took place virtually.
---
Looking for information on past EAST Annual Scientific Assemblies? Please visit our meetings archive page by clicking on the button below.
Annual Scientific Assembly Archive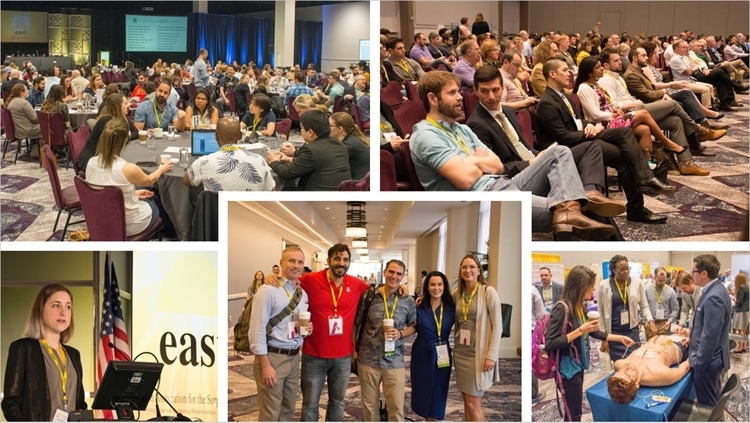 Future EAST Meetings
2022
January 11-15

Austin, Texas

2023
January 10-14
(Subject to Change)

Location: TBD