Online Education
EAST offers a wide variety of online education opportunities, including those eligible for AMA PRA Category 1 Credit ™ and self-assessment credits toward Part 2 of the American Board of Surgery MOC Program.
Online Education/CE Central

Access the online portal at www.CECentral.com/EAST for free EAST developed continuing education activities. Use your unique EAST coupon code to bypass payment and complete your credit request.* Your EAST coupon code is posted on your member profile page. Sign in to retrieve it. Email support@cecentral.com if you have any issues requesting credit.

The EAST Online Education Center was initially supported by the former EAST Foundation through an unrestricted grant from Edwards Lifesciences.


EAST Master Classes
The fields of Trauma, Surgical Critical Care, and Emergency General Surgery are in a state of constant evolution, and frequently require the adoption of new techniques, procedures, technologies, concepts, or treatment paradigms. The EAST Master Classes is a series of live webinars focused on one particular area of new development, techniques, or technology that is of interest to the EAST members and that will promote greater understanding of cutting edge developments affecting the field, and help members to assess the potential for incorporation or adoption into their practice or local program/center.
Traumacasts

Traumacasts are free audio interviews addressing education research and treatment. Select Traumacasts also are available for CME credit through CECentral.
Storycasts

EAST Storycasts - Histories of Trauma and Emergency General Surgery told by the People who were there
This series of audio interviews addresses important events, discoveries and people in trauma and emergency surgery. These stories are our history. Always surprising and often humorous, they come from the giants on whose shoulders we stand.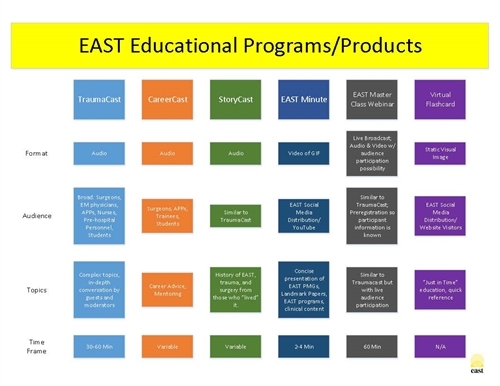 American Geriatrics Society's (AGS) Geriatrics Virtual Patient Case (VPC) Modules for Surgical and Related Medical Sub-Specialties. The cases are available through www.geriatricscareonline.org.