Publications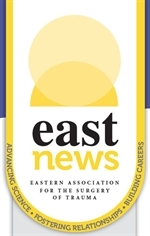 EAST News
Stay in touch with EAST News, our quarterly newsletter available online to members. The newsletter covers topics such as new initiatives, member recognition, new CME programs available in the EAST Online Education Center and upcoming deadlines. Back issues are also available online.
EAST Literature Review
Each month EAST members receive an email prepared by the Mansucript and Litetrature Review Committee abstracting relevant articles culled from a variety of professional journals.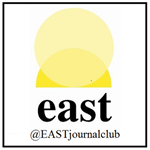 EAST Twitter Journal Club
Participate in EAST's Twitter Journal Club, #EASTjc. EAST moderators will regularly join authors of current articles of interest to EAST members for an informal discussion on Twitter of the articles' specifics and of related topics.
Landmark Papers in Trauma and Acute Care Surgery
The EAST Landmark Papers Resource in Trauma and Acute Care Surgery gives aspiring clinicians who are interested in the care of acute care surgery patients a solid foundation of defining papers from which they can interpret PMGs, literature reviews of newer material, and other educational content.
Combat Casualty Database
EAST provides a database of articles directly relevant to the care of combat casualties from the Journal of Trauma and Acute Care Surgery. The Combat Casualty Database is available online to currently deployed members of the United States military. Register with your military email address to access the database.
Journal Links
For your convenience, we also include direct links to The Journal of Trauma and Acute Care Surgery, Shock, and Critical Care Medicine.