Online Education Committee
Oversee the development of online education on the EAST Education Center. Populate the Education Center with a variety of online educational topics that meet the continuing education needs of the EAST membership. Responsible for the coordination of EAST Traumacasts and Webinars.
Committee members are appointed by the President with approval by the Board of Directors. Committee member terms are three years. All terms begin in January and conclude in January in the year specificed in "term ends".
EAST Online Education Programs/Products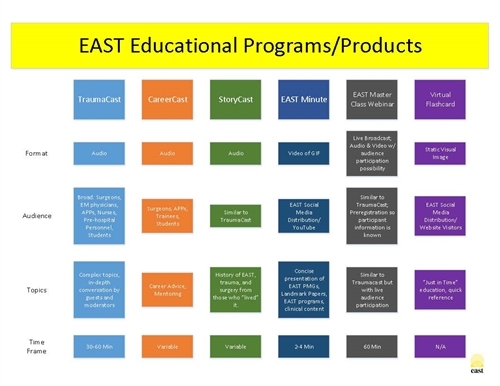 ---
Members
Intermountain Medical Center in Murray, UT
Term ends 01/18/2020
Loyola University Medical Center in Maywood, IL
Term ends 01/16/2021
NYU Langone Health in ,
Term ends 01/16/2021
Broward Surgical Associates in Ft. Lauderdale, FL
Term ends 01/18/2020
University of Arizona in Tucson, AZ
Term ends 01/16/2021
West Virginia University in ,
Term ends 01/15/2022
Broward Health Medical Center in ,
Term ends 01/15/2022
Mission Hospital in ,
Term ends 01/16/2021
in Royal Oak, MI
Term ends 01/15/2022
Johns Hopkins Hospital in Baltimore, MD
Term ends 01/16/2021
Medical College of Wisconsin/Froedtert Hospital in Milwaukee, WI
Term ends 01/16/2021
Yale New Haven Health in ,
Term ends 01/15/2022
Massachusetts General Hospital in ,
Term ends 01/15/2022
University of Florida in Jacksonville, FL
Term ends 01/18/2020
Thomas Jefferson University Hospital in Philadelphia, PA
Term ends 01/16/2021
Medical College of Georgia at Augusta University in Augusta, GA
Term ends 01/15/2022
Louis Stokes Cleveland VA Medical Center in ,
Term ends 01/16/2021
University of Iowa in ,
Term ends 01/15/2022
University of Minnesota in ,
Term ends 01/16/2021
Massachusetts General Hospital in ,
Term ends 01/15/2022
Loyola University Medical Center in Maywood, IL
Term ends 01/15/2022
University of Rochester Medical Center in Rochester, NY
Term ends 01/18/2020
Shock Trauma Center in ,
Term ends 01/15/2022
in Clifton, NJ
Term ends 01/15/2022
University of Miami Miller School of Medicine in Miami, FL
Term ends 01/15/2022
West Virginia University in Morgantown, WV
Term ends 01/15/2022
UT Southwestern Medical Center in ,
Term ends 01/15/2022
Carolinas Medical Center in ,
Term ends 01/16/2021
in ,
Term ends 01/16/2021
Spectrum Health at Butterworth Hospital in Grand Rapids, MI
Term ends 01/16/2021
Scripps Mercy Medical Center in San Diego, CA
Term ends 01/18/2020