Spotlight on 2017 Raymond H. Alexander MD Resident Paper Competition (Clinical Science) winner – Joshua Brown, MD, Msc
Monday, February 13, 2017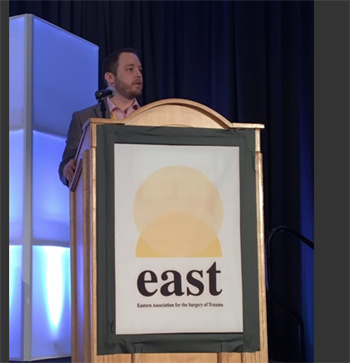 Describe what's it's like to be recognized for your research accomplishments.
Winning this year is a tremendous honor. I've participated several times now as a resident, and the presentations from the other trainees have always been top notch. I think the Alexander winner every year can truly feel he or she has put out some very good science to help our patients. And I couldn't have picked a better year to win, with Dr. Stassen as president!
How have EAST mentors made a difference in your career?

Dr. Stassen is a lifelong mentor from medical school for me. Her and Dr. Mark Gestring got me involved early on in Medical School, bringing me to the EAST meeting and introducing me to everyone we have came across. Drs. Peitzman, Sperry, Rosengart, and Forsythe in Pittsburgh have supported my interest in trauma from day one, encouraging me to become a provisional member since internship. I also had the opportunity to participate in the EAST mentorship program when it got started, with Dr. Mayur Patel as my EAST mentor, who's been great at growing that program now! I could go on, but needless to say mentorship has been an important part of my journey with EAST and really made it feel like home.
What advice would you give to residents who are planning on submitting their research to EAST?

My advice for residents is to just start submitting! I encourage my co-residents to send abstracts related to emergency general surgery and critical care. Many think EAST is only interested in trauma related abstracts, and I think there are a lot of residents with overlapping interests in critical care, sepsis, and emergency general surgery topics who could contribute some great science to the program.