Drs. Bruce Crookes and Nicole Stassen call EAST members to
Thursday, April 6, 2017
Today marks the launch of EAST's second annual Pay It Forward Day campaign. Held annually in April, Pay It Forward Day involves people performing acts of kindness for others without expecting anything in return. Instead, recipients are asked to pay the kindness forward to others in need, creating a ripple effect of giving.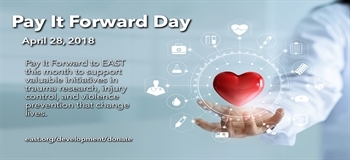 As the 2016 EAST president I challenged our organization to "Pay It Forward" as it is the foundation on which EAST was created.
Our current president Dr. Crookes has emphasized our need for "Kaizen," or continual improvement, as it is essential for our profession and our organization. This can only be achieved by continuing to provide leadership and development for young surgeons active in the care of the injured patient through interdisciplinary collaboration, scholarship, and fellowship. The EAST Development Fund is the vehicle through which many of these initiatives are funded.
In the days leading up to Pay It Forward Day, Friday, April 28th, 2017, we challenge each and every one of you to continue to "Pay it Forward" to EAST by donating to the EAST Development Fund. Together we can make a difference.
Bruce A. Crookes, MD, FACS
EAST President 2017

Nicole A. Stassen, MD, FACS, FCCM

EAST President 2016

Member, Development Committee
*The Eastern Association of the Surgery for Trauma ("EAST") is a Tennessee nonprofit corporation exempt from federal income tax pursuant to Internal Revenue Code Section 501(c)(3). Gifts to EAST are deductible for income tax purposes within the limits prescribed by state and federal laws. Please consult your tax advisor.