#GivingTuesday - Give a Gift to Inspire the Future of Trauma Care!
Friday, November 2, 2018
On November 27, EAST is joining a global day of generosity, #GivingTuesday. Celebrated the Tuesday following Thanksgiving (in the U.S.), #GivingTuesday kicks off the charitable season, when many focus on their holiday and year-end giving. It's a day when you can make a big impact on the future of trauma research.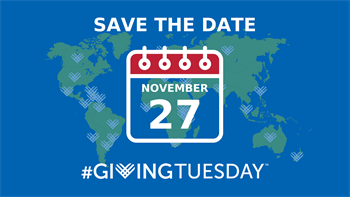 Since the launch of EAST's #GivingTuesday campaign in 2015, EAST donors have raised thousands for the EAST Trauma Research Scholarship, which supports the research of promising surgeon-scientists whose work is critical to advancing the science of caring for the injured patient in an environment of scarce funding opportunities.
You can help EAST continue to support the work of deserving investigators on #GivingTuesday by making a donation anytime now through November 27, 2018. In lieu of that coffee today, consider a $5 donation or a long-term investment by opting in for recurring donations.

Thank you you for giving back this #GivingTuesday and best wishes for the holiday season.
*The Eastern Association of the Surgery for Trauma ("EAST") is a Tennessee nonprofit corporation exempt from federal income tax pursuant to Internal Revenue Code Section 501(c)(3). Gifts to EAST are deductible for income tax purposes within the limits prescribed by state and federal laws. Please consult your tax advisor.
---
Past Trauma Research Scholarship Recipients
2002
John M. Santaniello, MD


Bone Marrow Response to the Burn/Sepsis Model

2003
Alicia M. Mohr, MD


Beta Adrenergic Modulation of Erythropoiesis in Trauma

2004

John A. Sandoval, MD
The Evaluation of an Anti-Peptidoglycan Monoclonal Antibody for the Diagnosis of Bacterial Sepsis: A Pathway to a Quicker Diagnosis?

2005

David E. Carney, MD
Attenuation of Adult Respiratory Distress Syndrome with a Modified Tetracycline
Compound

2006

Bruce A. Crookes, MD
Permissive Hypercapnea during Acute Resuscitation after Traumatic Brain Injury

2007

Andrew C. Bernard, MD
Transfusion and T-Cell Receptor Expression

2008

Samuel Mandell, MD
The National Impact of Vehicle Mismatch on Mortality after Motor Vehicle Crashes

2009
Jordan A. Weinberg, MD
RBC Storage Age and Potentiation of Transfusion-Related Clinicopathology in Trauma Patients
2010

Jason W. Smith, MD
Direct Peritoneal Resuscitation Effects in the Damage Control Trauma Patient

2011
Martin D. Zielinski, MD
The Biomechanical Effects of Flaccid Paralysis Induced by Botulinum Toxin a after Damage Control Laparotomy: A Randomized Clinical Trial
2012
Jeremy J. Heffner, MD
Mesenchymal Stem Cell and Platelet-Rich Plasma Therapy using a Porcine Small Intestine Submucosa Delivery System for Treatment of Burn Wounds
2013

Mayur B. Patel, MD, MPH

DASH After TBI Study: Decreasing Adrenergic or Sympathetic Hyperactivity After Severe Traumatic Brain Injury, A Pilot Randomized Controlled Trial Using Propranolol and Clonidine

2014

Amy Makley, MD

Activation of pulmonary endothelium by microparticles derived from stored red blood cells

2015

Michael Cripps, MD

Viscoelastic guided resuscitation versus fixed ratio resuscitation in trauma

2016

Cherisse Berry, MD

Prospective evaluation of cerebral autoregulation and cerebral vasospasm in patients with traumatic brain injury using near-infrared spectroscopy (NIRS)

2017

L. Marco Hoesel, MD, FACS

In-vivo analysis of endothelial glycocalyx in trauma/hemorrhagic shock

2018

Lucy Zumwinkle Kornblith, MD

The Biology of Post-Injury Platelet Function
---