SSM Health St. Mary's Hospital - Madison, WI
Posted May 10, 2019
Madison, WI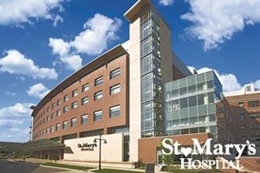 Actively Recruiting -- Trauma/Acute Care Surgeon, Surgical Intensivist
We would like to invite you to become part of the Trauma Team at SSM Health St. Mary's Hospital - Madison, Wisconsin. We are seeking an experienced and caring, board-certified Surgical Critical Care/Trauma Surgeon.

Opportunity overview:

• Be an integral participant in the development and shaping of an Integrated Trauma/Acute Care Surgery program
• Help elevate our trauma unit to an ACS Level-II Trauma Center from a Level III
• 7-on/7-off schedule; no 24-hour shifts; 24/7 AP coverage; block scheduling
• Care for patients in an award-winning, 440-bed tertiary care and referral center
• Become part of a dynamic surgery team, that is in the process of expanding to 7-11 surgeons, including trauma/acute care, general surgery, and subspecialists, with support from neurosurgery and orthopedics

At SSM Health, we are united by a shared commitment to serve through faith, humanity, compassionate care and exceptional medicine. Join us as we work together to reveal the healing presence of God through our exceptional health care services.

The Hospital

SSM St. Mary's Hospital is an award-winning facility and has been serving South Central Wisconsin since 1912. SSM St. Mary's Hospital is a 440-bed tertiary care and referral center. We are currently elevating the Level III Trauma Program to an ACS Level II Trauma Center. The Trauma program has strong support from our 5 neurosurgeons and 12 orthopedists, along with the many other specialties including intensivists, hospitalists, interventional radiology, and other hospital-based teams. SSM St. Mary's Hospital is the referral hospital for the 7 hospital SSM Wisconsin Region. Our Wisconsin Region also counts 4 additional affiliate hospitals in our network. St. Mary's and Dean Medical Group are part of SSM Health, an integrated health system that has facilities in Wisconsin, Illinois, Missouri, and Oklahoma.

The Community

Madison, population 252,000, consistently ranks as one of the top places in the country to live, work, go to school, play, and raise a family. In fact, Madison was recently named as the most livable mid-size city in the United States by Livability.com. Middleton is a popular suburb to the west. It was recognized by Money Magazine when it was named the seventh of "The 100 Best Places to Live." The Madison area offers excellent public and private schools. The Overture Center http://www.overture.org/ in downtown Madison is a beautiful facility that offers a wide variety of entertainment, including the Madison Symphony, Madison Opera, and visiting performances

Requirements

BC in General Surgery and BE/BC in Surgical Critical Care. ATLS certified. Fellowship training in Trauma and Surgical Critical Care.

SSM Health Dean Medical Group is an Equal Opportunity Employer and Affirmative Action Employer. All qualified applicants will receive consideration for employment without regard to race, color, religion, sex, or national origin.
How to apply
Please email CV and Cover Letter to:

Mike Dahlke, Senior Physician and Provider Recruiter
mike.dahlke@ssmhealth.com
O: 608 294-6250

Location
700 S. Park Street
Madison, WI 53715