Multicenter Trial Proposal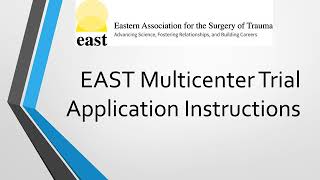 Click on the image above to view the EAST MCT Application Instructions Video
Do you have a single center study that just didn't produce enough enrollment to achieve your research goals? Do you have a great research idea (retrospective or prospective), but just don't believe you can get it off the ground without multicenter collaboration? How about achieving your goals more effectively through collaboration with other EAST members in a multicenter project?
The Multicenter Trials Committee within the EAST Research Division is seeking high quality multicenter trial ideas to enter into the 2020 EAST MCTs cohort. The submission deadline to be considered as an EAST 2020 Multicenter Trial was August 30, 2019.
All proposals will be reviewed by the EAST Multicenter Trials Committee. Inputs of the Committee will be conferred confidentially to the primary investigator. Selected proposals will be listed for recruitment on the EAST Multicenter Study Website.
*Please note, if you are not a current EAST member and are looking to submit a proposal, a Sponsor that is an active EAST member does need to be identified. If you need assistance in finding a Sponsor please contact Rachel Dixon at rdixon@east.org.
---
STEP #1
Review the Process and Instructions document. Incomplete submissions will not be accepted.
STEP #2
Submit the following online form:
STEP #3
Email the following documents to Rachel Dixon at rdixon@east.org.
IRB Approval (not required to submit a proposal)
---
If a proposed study is accepted by the EAST Multicenter Trials Committee as an EAST approved study the following information will apply:
The Recruitment Letter (Email) and Guidelines for Authorship can be found here.
If a study reaches publication, PIs are strongly encouraged to have the words "EAST Multicenter Trial" in the title or subtitle of the manuscript. If this is not done a reason must be provided to EAST (such as: insufficient character allowance in the tile for a given journal) prior to submission for publication.
Information regarding the advertising opportunities through EAST to help increase exposure for your MCT can be found here.
---
If you have any questions or need assistance please contact the EAST Administrative Office at managementoffice@east.org or call (312) 202-5508.