Mayo Clinic Trauma and Acute Care Surgery Symposium 2023
Aug 23–26, 2023
Mayo Clinic - Leighton Auditorium-Siebens Medical Education Bldg
200 1st Street SW
Rochester, MN 55905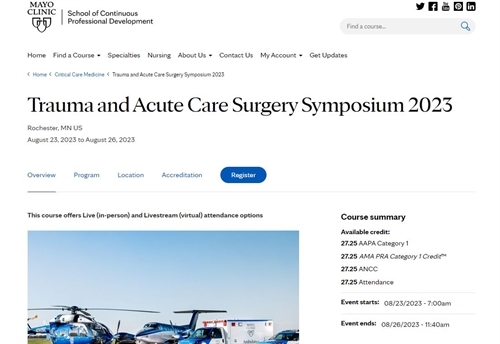 This widely applicable CME conference focuses on enhancing patient care by providing:
Expert knowledge and skill sets in acute care surgery for advanced practitioners.
The latest principals of trauma, critical care and emergency surgery.
Topics that are geared towards the utilization of advanced practitioners in the management of emergency general surgery.
Multiple educational formats, including didactic sessions, hands-on workshops/simulations, and case presentations.
Click here for more information and to Register.

Target Audience
This course is designed for advanced practice providers including physician assistants and nurse practitioners. In addition, military members, physicians, clinical nurse specialists, nurse educators and nursing staff in trauma, acute care surgery, emergency medicine, and hospital medicine may benefit from this course.
Learning Objectives
Upon completion of this activity, participants should be able to:
Describe a systematic approach to assessment and management of the trauma and acute care patients.
Formulate an action plan based on scientific rationale, evidence-based standards of care, and practice management guidelines for trauma and acute care patients.
Define common organ failure syndromes in the critically ill, such as respiratory failure, shock, and sepsis.
Describe management of the pre and post-acute care surgical patients.
Choose appropriate and timely consultation and/or referral when necessary in the trauma acute care surgery populations.
Describe whole blood management in the trauma patients.