AAST-EAST-SCCPDS Virtual Job Fair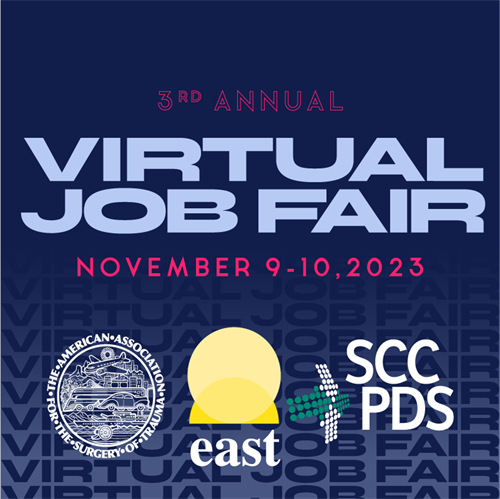 The American Association for the Surgery of Trauma (AAST), the Eastern Association for the Surgery of Trauma (EAST), and the Surgical Critical Care Program Directors Society (SCCPDS) will be hosting a Virtual Job Fair November 9-10, 2023.:

Thursday, November 9, 2023, from 4 PM to 9 PM CST
Friday, November 10, 2023, from 9 AM to 4 PM CST
This experience will be unique and beneficial for both job seekers and employers who find it difficult to attend traditional job fairs. This will be a completely immersive platform that replicates the logistics and environment of a physical career fair.
With a virtual job fair platform, there is unlimited reach for recruiters to attract an unlimited number of candidates and control for reduced costs, while being easily accessible to everyone. There is no travel needed, which makes the hiring process more efficient and effective.
---
Hiring Institution Registration
For the employers, this two-day virtual job fair will give you the ability to broaden your reach for qualified candidates to fulfill vacant positions. After the fair, you will have an opportunity to receive the full list of job fair attendees with their contact information and CV. Visit the Recruiter Information page to learn more and purchase a booth.
---
Job Seekers
For job seekers, this is an opportunity to learn about new employment opportunities while also networking with other professionals in the field.

If you are interested in participating, please visit the Job Seekers page to learn more and register to start receiving upcoming information about the event.
---
Town Hall Series
In anticipation of the virtual job fair, the AAST Associate Member Council and EAST Mentoring Program present the professional development town hall webinars. This series of webinars will offer pearls of information regarding preparing your application and refining your interview skills as well as learning the right "fit" when it comes to securing your first job. For more information, visit the Town Hall Series page.