Connect on Social Media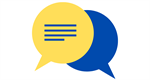 There are so many ways to stay connected to EAST – even online! Follow along @EAST_Trauma on Twitter and Instagram and The Eastern Association for the Surgery of Trauma on Facebook, LinkedIn, and YouTube for breaking news, reminders, relevant articles, and all the stories in between.
Have a specific interest within trauma?
EAST's vibrant community of members add their voices to several Twitter accounts focused on discussing research, the field of trauma surgery, and injury control and violence prevention. Read on to learn more.
@EASTJournalClub
The @EASTJournalClub is a community of trauma professionals who regularly discuss timely articles and research related to trauma and acute care surgery. Take part in discussions and polls and be sure to use the hashtag #EASTjc to have your voice heard. Learn more here.
@EAST_Traumacast
EAST's signature podcast series, Traumacast, brings together current and future trauma leaders in interviews addressing research related to the injured patient, education efforts related to trauma, and novel methods in the management of injury. The conversations don't stop at the end of each episode. Follow @EAST_Traumacast on Twitter to share your thoughts on the topics discussed, connect with interviewers and podcast guests, and be alerted to new episodes. Learn more here.
@EAST_ICVP
Caring for the injured patient is at the heart of trauma surgery. The Injury Control and Violence Prevention Committee is dedicated to enhancing awareness within the trauma community and the public on the importance of trauma prevention. The @EAST_ICVP Twitter account regularly posts articles, safety tips, and research related to preventing injury across demographics and combatting violence across communities. Learn more here.
#EASTMemberChat
Have something to say? Add your voice to the monthly EAST Member Chat. Join fellow EAST members on Twitter as they discuss topics relevant to their professional growth. Each month features a new topic such as, "What's the best piece of professional advice you ever received?" Chats occur every third week of the month. Be sure to use the hashtag #EASTMemberChat to keep the conversation going!