Dr. A. Britton Christmas
Thank you to EAST Past President Dr. A. Britton Christmas for supporting the EAST Development Fund!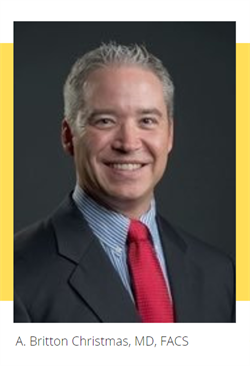 Donor Story
The central mission of EAST is to "provide leadership and development for young surgeons active in the care of the injured patient." Nowhere is this more apparent than through the initiatives enabled by the EAST Development Fund.
Through the EAST Leadership Workshop Scholarship and the Brandeis Scholarship for Health Policy and Management, I gained valuable tools ranging from local leadership skills to negotiation tactics.
Donating to the EAST Development Fund enables me to give back to the organization that invested so much in me as a young acute care surgeon. In turn, donating to the EAST Development Fund allows me to pay it forward and further support the professional development of our future trauma surgeons.
In short, our contributions represent the embodiment of opportunity for our membership to advance science, foster relationships, and build careers.

To learn more about EAST Past President A. Britton Christmas, MD, FACS and connect, please visit the EAST Member Directory from your EAST member profile.
---
Interested in sharing your EAST donor story with our community? Please submit the following form online. If you have any questions, please contact us.