Dr. Alison Wilson
Thank you to Dr. Alison Wilson for supporting the EAST Development Fund!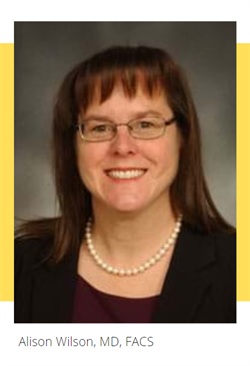 Donor Story
I joined EAST when I was an Assistant Professor first starting my career. I enrolled in the EAST Leadership Development Workshop and immediately found content that was relevant to my skills, career, and future development. The workshop and its curriculum rotation helped give me the skills to understand my director, chair, and administration. I enrolled for three years but then found that I continued to get more and more from it as the course grew and changed.
Over the years, EAST has given me opportunities to become involved at the national level and the critical skills acquisition that has helped me be successful as a Trauma Medical Director. In the last five years, my involvement in EAST has shifted from benefitting my career development to serving as a platform for my whole program. I continue to enjoy all the committee opportunities to serve at the national level, but I take even greater pride when I see my young residents and students have an opportunity to present a paper or poster or when I see my junior faculty have an abstract accepted or take on committee roles.
I look forward to continuing my involvement in EAST, but I get even more satisfaction from seeing my trainees getting involved and beginning to reap the benefits that EAST has for the young trauma surgeon. I take great pleasure in seeing my trainees discover what I did ten years ago. I believe in the principles that EAST embraces regarding training young trauma surgeons and partnering with our nursing professionals, EMS, and injury prevention. I will continue to be an advocate and supporter of EAST long into my senior years.

To learn more about Alison Wilson, MD, FACS and connect, please visit the EAST Member Directory from your EAST member profile.
---
Interested in sharing your EAST donor story with our community? Please submit the following form online. If you have any questions, please contact us.