Dr. Andrew Bernard
Thank you to Dr. Andrew Bernard for supporting the EAST Development Fund!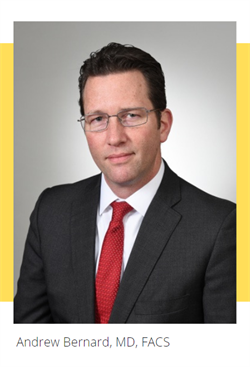 Donor Story
EAST has influenced every aspect of who I am as a surgeon. EAST's clinical programs and education make me a better doctor and surgeon. Its career development opportunities have helped me become a better leader, team-mate, and member of the medical staff. EAST's research scholarship accelerated the pace and productivity of my research program by providing materials that were out of reach for an investigator relying solely on intramural funding. Meanwhile, EAST's social programs and people have introduced me to a world of trauma and surgery far outside my own institution and region and helped form friendships that strengthen me both as a surgeon and as a person. All of these benefits are part of EAST's fundamental mission.
EAST's Development Fund, formerly called the EAST Foundation, takes these benefits farther and deeper and to more people. More members can experience more of EAST because of the EAST Development Fund. And even more important than EAST members, our patients and our communities benefit from us being better-better surgeons, better teachers, better leaders, and better people. I've been an EAST Foundation/Development Fund donor for almost as long as I've been an EAST member. I know that every contribution makes a difference in the trauma care or trauma career of someone somewhere. And that's what EAST is about.
---
Interested in sharing your EAST donor story with our community? Please submit the following form online. If you have any questions, please contact us.