Dr. Babak Sarani
Thank you to Dr. Babak Sarani for supporting the EAST Development Fund!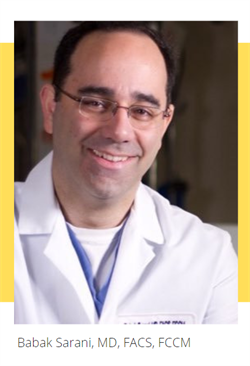 Donor Story
The mission of EAST is to "advance science, foster relationships, and build careers." Doing so requires investment of time, energy, and money in projects that meet these endpoints.
Examples of current, ongoing projects include INVEST-C, which links our established investigators with our junior members to mentor them through the process of designing robust scientific projects and obtaining funding for them, the EAST Trauma Research Scholarship, which seeks to provide seed money for our members to commence a life-long career in insightful research, and the Templeton Fund, which provides research funding to a junior investigator for research in injury prevention.
In order to continue these efforts, and as importantly, launch new programs, it is imperative that we have a reliable pool of funds from which to draw. It is because of this that donation to the Development Fund is vital. Only by continuing to support these efforts, can we stay true to our mission and continue to launch the careers of our younger members while also advancing the science needed to save the lives of our patients.

To learn more about Babak Sarani, MD, FACS, FCCM and connect, please visit the EAST Member Directory from your EAST member profile.
---
Interested in sharing your EAST donor story with our community? Please submit the following form online. If you have any questions, please contact us.