Dr. Bryce Robinson
Thank you to Dr. Bryce Robinson for supporting the EAST Development Fund!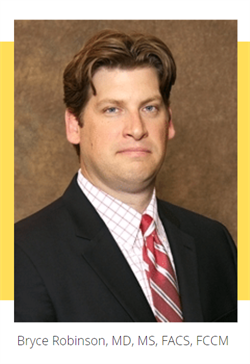 Donor Story
For me, EAST is my academic home. This organization fits with what drives me: a mission of mentorship and scientific advancement that is dedicated to improving the care of my patients.
The Practice Management Guidelines (PMGs) are a concrete example of this mission in action. EAST has worked hard to modernize their PMGs with an emphasis on transparency and quality while teaching the next generation the "how to's" of writing these important guidelines. In my opinion, there is no other surgical organization that is dedicated to the mentorship and advancement of the junior trauma/EGS surgeon.

By joining EAST, you will meet your peers and create relationships that will last throughout your career.
I think it is important to donate to EAST because we need to take fiscal responsibility for our mission. The promotion of junior faculty, outreach, and scientific endeavors takes substantial funding. If we don't donate, then we limit the impact of this important organization.
---
Interested in sharing your EAST donor story with our community? Please submit the following form online. If you have any questions, please contact us.