Dr. D'Andrea Joseph
Thank you to Dr. D'Andrea Joseph for supporting the EAST Development Fund!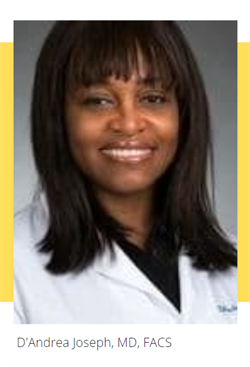 Donor Story
EAST was one of the first academic organizations that I joined as a new trauma surgeon. I was somewhat intimidated at first and was not very active but quickly learned what EAST was about. As one of the founding fathers and my personal mentor Dr. Lenworth Jacobs had alluded to, EAST was a place where the young trauma surgeon could grow and develop academically.
I have since had the privilege of serving on a variety of committees with each one having a common theme: enthusiasm, inclusivity, and support. The PMGs and scientific statements continue to play a role in my decision process, and I have developed many lasting relationships as an EAST member.
I have chosen to support the EAST Development Fund because it represents what EAST is: opportunity for the young trauma surgeon. In so doing, I hope to be able to continue to be a part of this amazing group of people even well beyond my "young trauma surgeon" days.


To learn more about D'Andrea Joseph, MD, FACS and connect, please visit the EAST Member Directory from your EAST member profile.
---
Interested in sharing your EAST donor story with our community? Please submit the following form online. If you have any questions, please contact us.