Dr. Donald Jenkins
Thank you to EAST Past President Dr. Donald Jenkins for supporting the EAST Development Fund!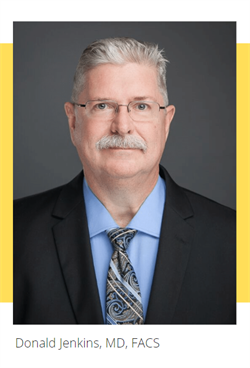 Donor Story
I became an EAST Milestone Donor for a number of reasons. Being in a leadership position, one is acutely aware of the needs of the organization and its membership. Setting an example of volunteerism is paramount as a leader; putting your contributions, including your money is vital to succeed. If I don't do it, why should anyone else? The benefit is seen in the growth of the organization and the breadth and scope of the offerings to meet the needs of the members and maintain the vitality of the organization.

To learn more about EAST Past President Donald Jenkins, MD, FACS and connect, please visit the EAST Member Directory from your EAST member profile.
---
Interested in sharing your EAST donor story with our community? Please submit the following form online. If you have any questions, please contact us.