Dr. Jonathan Meizoso
Thank you to Dr. Jonathan Meizoso for supporting the EAST Development Fund!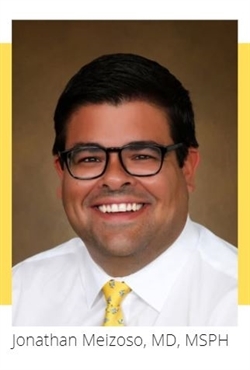 Donor Story
I was privileged to first become exposed to EAST when I was a surgical resident through my mentors at the University of Miami, many of whom were actively involved in EAST leadership and some having been charter members of the organization. After attending my first meeting in San Antonio, I knew I had found a home in this organization.
I strongly believe it is imperative for all of us (even those on a resident or fellow salary) to give back to this organization that gives so much to us. Not a day goes by in our everyday practice where we don't mention an EAST PMG or multicenter trial.
I now have colleagues throughout the country that I have met through EAST and I've had the honor of serving on several EAST committees, which has served a dual purpose – both allowing me to give back while simultaneously helping advance my own career in our field. EAST is devoted to advancing science, fostering relationships, and building careers, and I give to be able to participate in a small part toward that mission.

To learn more about Jonathan Meizoso, MD, MSPH and connect, please visit the EAST Member Directory from your EAST member profile.
---
Interested in sharing your EAST donor story with our community? Please submit the following form online. If you have any questions, please contact us.