Dr. Kevin Schuster
Thank you to Dr. Kevin Schuster for supporting the EAST Development Fund!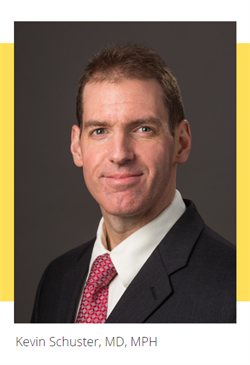 Donor Story
EAST is the one and only organization dedicated to the professional development of the young trauma surgeon.
In the decade that I have been a member of EAST, I have seen early career scientists present papers at the Annual Scientific Assembly, achieve research funding through EAST, and use this to establish focused research agendas competitive for National Institutes of Health or similar funding. These surgeon scientists are advancing the care of the acutely ill or injured surgical patient. Similarly, enthusiastic young surgeons have brought forward innovative ideas and developed them into EAST's key program offerings. Only in an organization like EAST can such original ideas be advanced by young surgeons. Without EAST, these surgeons would have few venues for their research and ideas.
Through many of EAST's programs, fellows-in-training and young surgeons can broaden the skills necessary to become successful surgical investigators or achieve leadership positions in their programs. For all of these reasons and more, I have given and continue to give to EAST. I choose to give back to the organization that has provided so many opportunities for me.
---
Interested in sharing your EAST donor story with our community? Please submit the following form online. If you have any questions, please contact us.