Dr. Libby Schroeder
Thank you to Dr. Libby Schroeder for supporting the EAST Development Fund!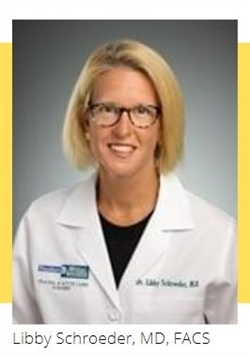 Donor Story
EAST was the first organization that I joined as a resident. It gave me my first opportunity to present. It gave me my first opportunity to join a committee and, a few years later, to chair a committee. I love giving back to an organization that has fostered me through so many milestones in my trauma career.

To learn more about Libby Schroeder, MD, FACS and connect, please visit the EAST Member Directory from your EAST member profile.
---
Interested in sharing your EAST donor story with our community? Please submit the following form online. If you have any questions, please contact us.